Swansea's Michael Laudrup calls for FA Cup replays to be scrapped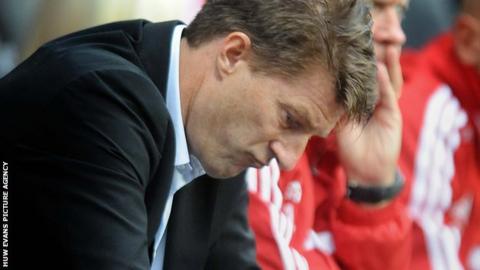 Swansea City manager Michael Laudrup has called on FA Cup replays to be scrapped.
The former Real Madrid, Barcelona and Juventus midfielder wants to see ties settled on the day, going to extra time or straight to penalties.
Laudrup's side are away at Manchester United on Sunday in the FA Cup third round and is keen to see his side get a win during the 90 minutes.
"With the fixtures we have, having a replay can really hurt," said Laudrup.
The Dane says it would be "better for everyone" if Sunday's tie at Old Trafford was finished one way or the other on the day.
"Last year we had a replay against Arsenal in a very tight January schedule," said Laudrup.
"I really don't understand, with so many fixtures, why you still have the rule with the replay."
The Swans travel to Manchester United looking for their first win at Old Trafford.
This season trips to the Red Devils' fortress have not been as daunting as they were during Sir Alex Ferguson's reign.
David Moyes' side have lost four times at home to West Bromwich Albion,Everton,Newcastle United and Tottenham.
Despite those defeats Laudrup says Swansea, who lost to United at home earlier this season, still relish playing at Old Trafford.
"It's something very special," said Laudrup. "It's the whole history of the club.
"You can't change that just because there are four teams going up there and winning.
"I think they know it will be very difficult to repeat it in the years to come, so it will always be something special because of the history of this great club."
Laudrup says his side, who haven't won in their last seven matches, will not be fooled by United's indifferent start to the season.
"A new manager coming in that's always difficult, especially replacing a man who's been there so many years in Sir Alex Ferguson," said Laudrup.
"I think they've had a lot of injuries to key players, [Wayne] Rooney's struggling as well so a combination of different things.
"But they had a good run until they lost the other day to Tottenham, so they are still up there and still have a possibility of being among the top four."