Arsene Wenger experience trumps Tim Sherwood enthusiasm in Cup

By Phil McNulty
Chief football writer
Last updated on .From the section Football449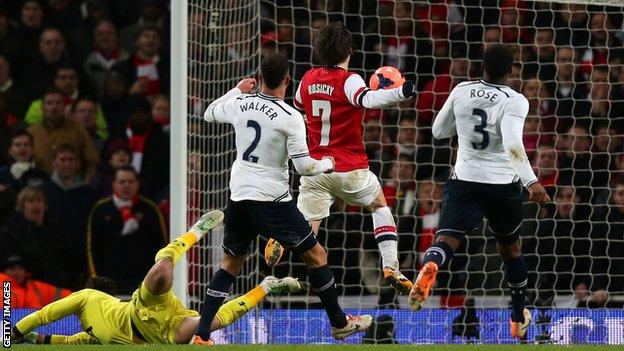 Tim Sherwood is the 11th Tottenham manager to cross Arsene Wenger's path since his appointment at Arsenal - and his task of succeeding where others have failed was laid out within 90 minutes.
It was only in March that Andre Villas-Boas made a comment that has achieved some notoriety when he suggested a north London derby victory for Spurs had sent Arsenal, and by association Wenger, into a "negative spiral".
Fast forward 10 months and the sacked Villas-Boas awaits his next employment opportunity as Wenger presides over a rejuvenated Arsenal on top of the Premier League and into the FA Cup fourth round after a comfortable 2-0 win over their fiercest rivals at Emirates Stadium.
As Spurs chairman Daniel Levy changes tack once more, Arsenal remain steadfast in their desire for continuity and faith in Wenger, despite his failure to win a trophy since 2005's FA Cup.
And after a spell when the gap appeared to be closing between the two clubs, with hints that Spurs might even move into pole position, it is now opening up again.
Those of us who predicted that they would finish above Arsenal in the Premier League this season cite as justification the fact the call was made before the end of the transfer window, before Wenger made his big statement of intent with the £42.4m signing of Mesut Ozil from Real Madrid.
There is more to it than that. True, Spurs' raft of signings brought in with the £85m received from Real Madrid for Gareth Bale have struggled to weld together, but Arsenal's improvement and resilience may have surprised even their more optimistic followers.
This is a very impressive Arsenal side fuelled by great confidence and no little natural talent.
Arsenal were better in all departments on Saturday and the years appear to have rolled off the smiling Wenger. There are no guarantees this season will bring the trophy that has eluded Arsenal for so long, but Wenger's upbeat mood is perfectly understandable.
He certainly outflanked the relentlessly positive managerial rookie Sherwood, who felt Spurs may have left some of their energy at Old Trafford after the outstanding New Year's Day win against Manchester United.
Wenger, however, was tactically sharper than Sherwood - no surprise given their contrasting experiences. This was a game between a manager who is into an 18th year of putting his fingerprints on every aspect of Arsenal's thinking and one who is a couple of weeks into an 18-month deal.
Sherwood stood by his policy of using two strikers in Emmanuel Adebayor and Roberto Soldado, refusing to buy into the widespread and very valid observation that, while bold, it leaves Spurs in danger of being overrun in midfield.
And despite his rejection of the theory, it happened too often as Arsenal won with a first-half goal from Santi Cazorla and a second from Tomas Rosicky, who was the beneficiary of Danny Rose's dawdling on the halfway line.
This is by no means a criticism of Sherwood as his attacking approach is to be commended. The flexibility will surely come with more games in the job and there seems no danger of his failing through lack of confidence or conviction.
For Arsenal, this was further confirmation that they have real hopes of ending their barren sequence this season.
The Achilles heel remains up front, with Olivier Giroud's illness and a knee injury to Theo Walcott once again raising suspicions - or fears if you are of an Arsenal persuasion - that they could still be caught fatally short of quality in that position in the crucial phases of the season.
Wenger has serious designs on the FA Cup. He wrote in his programme notes: "It's the start of the journey, it's going on the train and staying on the train." And he wants to stay on until destination Wembley.
And someone who looks like he may be able to make the ride a little smoother is 18-year-old German attacker Serge Gnabry, who contributed so impressively to Arsenal's win.
Wenger has high hopes for Gnabry and he showed exactly why in one moment, a perfectly weighted pass into the path of Cazorla that ensured he had no need to break stride before opening the scoring.
The game ended on a sour note when Walcott was pelted with missiles while being taken off on a stretcher after injuring his knee. He responded with a signal reminding Spurs' supporters of the scoreline that was more sarcasm than malice, but only succeeded in creating further animosity among the visiting fans.
What view the Football Association takes remains to be seen.
With such a rich pedigree in this competition, this defeat will be doubly painful for Spurs, coming as it did against Arsenal and after the high of victory at Manchester United.
But Sherwood has still made a promising start, is clearly determined to change the face of this Spurs team and can now focus on moulding them even more in his own image and likeness. For all the trauma, they still lie only two points off the Champions League places.
Wenger will take his usual delight in emphasising Arsenal's superiority over Spurs - and can now realistically set his sights on the big prizes.