SPFL decisions were right, says Ross County's Roy MacGregor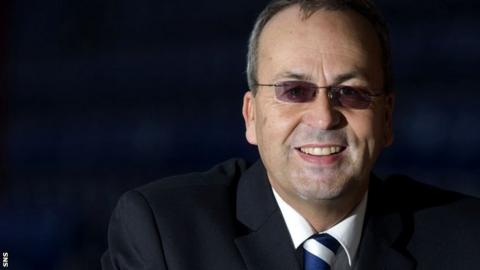 Ross County chairman Roy MacGregor believes last summer's decision to largely maintain the current top-flight structure was the right one.
MacGregor and St Mirren counterpart Stewart Gilmour blocked plans to move to a model that would have involved an 8-4 split midway through the season.
The dimension of a relegation play-off was added to the league as Scotland's two main league bodies were merged.
"I still think it's the right set-up for the fans," said MacGregor.
"It's really important the fan is put at the centre of football. If you ask the fan or the corporate sponsor to buy a season ticket and they don't know what they're buying, or they don't know what they're playing for, or they only have fixtures for half a season, that devalues what football is about."
This season, the team that finishes 11th in the newly-branded Scottish Premiership will enter a two-legged promotion/relegation play-off with one of the top sides in the second tier, who will have already played a two-legged semi-final with one of their fellow Championship clubs.
And MacGregor believes incorporating the play-off was "far more understandable than trying the 8-4 set-up".
"I think it was right, that was missing, it's in all other leagues," he explained.
"I think it'll be exciting for whoever's in 11th spot and it gives two, three and four in the Championship an opportunity of coming up.
"I think competition is what makes football and if they take competition out of football it's worse for it.
"To a degree, we're seeing a wee bit of that with the Premiership with everyone acknowledging that Celtic are going to win it and it's the fight for second and third place and European places.
"Competition is the essence of football."
Asked about the maiden Scottish Professional Football League season so far, MacGregor commented: "I think it's settled down and I think we've seen some good football and I'm an optimist.
"Particularly with what's going on at Dundee United and Aberdeen and clubs with the younger players staying and realising that Scottish football's the place to be until they've played a number of games, I think we're on the crest of something quite good.
"It won't happen immediately, but I think we're seeing the shoots of maybe a revival here.
"Hopefully, the result that we got last summer will be the start of actually being able to move that strategy ahead."