Eusebio profile: Portugal legend 'a great player and terrific man'
Last updated on .From the section Football381
It did not take Eusebio long to show why the wrangling between Sporting Lisbon and Benfica for his signature became so bitter that he had to escape to a small village on the Algarve.
Benfica won the battle to sign Eusebio, for £7,500 from Sporting Lourenco-Marques in his native Mozambique, and after scoring a hat-trick on his debut in 1961, he would soon repeat the feat in a friendly against a Santos side that included Pele.
At a time when exposure to the international game was limited, his name was known across the globe.
As a player, Eusebio, who died on Sunday at the age of 71, had it all.
He was capable of bewildering skill, possessed a stinging shot and it was said he could run 100 metres in 11 seconds. He also had the physical and mental strength not to be intimidated by anyone.
Former Manchester United player Paddy Crerand recalls facing Eusebio in a European Cup quarter-final at Old Trafford in 1966, two years before they were in opposition again in the final at Wembley in 1968.
"They got a free-kick about 35 yards from goal and I remember Harry Gregg in goal saying 'Don't put a wall up, I'll save this' and it was in the back of the net before Harry could even move," Crerand said.
"I felt sorry for Eusebio [in the 1968 final] because Nobby Stiles was marking him and not in the way you're supposed to mark people. People kicked lumps out of him and he didn't care, he just carried on playing. What a player."
In 1962, aged 20, he scored twice as Benfica beat Alfredo Di Stefano's Real Madrid 5-3 in the European Cup final.
As the focal point for a group of African players who came to prominence in the 1960s, records tumbled.
With nine goals, he was top scorer in the 1966 World Cup, the only time Portugal qualified for the tournament in his career, and he won 10 league titles and five cup competitions with Benfica.
The top scorer in the Portuguese league seven times, he was European Footballer of the Year in 1965 and by the time he retired in 1978 had scored 733 times in 745 professional matches, including 41 in 64 internationals.
A great player but also - as Crerand added - "a really terrific man", as he showed in the closing stages of that 1968 European Cup final.
In the closing stages, with the score 1-1 in a game United went on to win 4-1 in extra-time, Eusebio was denied what could have been a winner when his powerful shot was kept out by a fine save from Alex Stepney.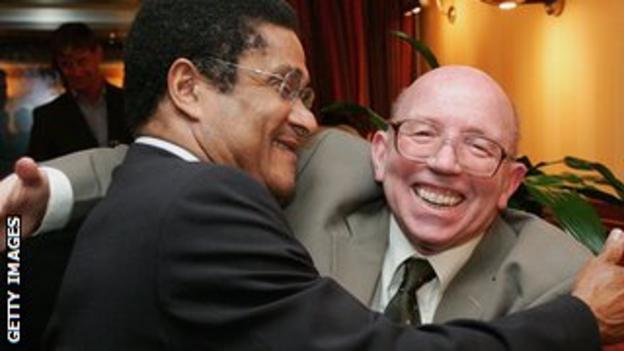 As play continued in one of the most important games of his life, Eusebio stopped to applaud the United goalkeeper.
"At the time I didn't really realise because it was the heat of the moment, but that was the kind of man he was," Stepney said.
"We met several times and talked about it and the respect of the man was absolutely unbelievable. To play against him was an honour."
It says much for Eusebio's standing in Portugal that for all Cristiano Ronaldo has achieved over the past decade, only now is the Real Madrid player being talked of "seriously" in the same terms as his countryman.
Ronaldo, who has scored 151 goals in 135 league appearances since joining Real from Manchester United for £80m in 2009, overtook Eusebio's international scoring tally last year but took 106 caps to do so.
"People have started comparing both in more serious ways," Portuguese football journalist Diego Butaguas said.
"Eusebio was our top player ever. Portuguese football fans are big supporters of their teams and have huge rivalries, but Eusebio was the kind of guy that everyone loved."