Kilmarnock: Kris Boyd aggrieved at 'goal' denial against Aberdeen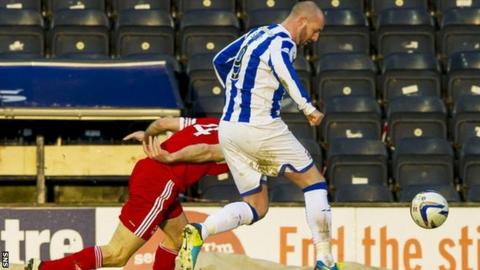 Kris Boyd claims that Aberdeen defender Russell Anderson admitted there was no foul as the Kilmarnock striker was denied an opening goal at Rugby Park.
Referee Craig Charleston penalised Boyd's challenge on Anderson before he chipped the ball over goalkeeper Jamie Langfield ahead of the Dons' winner.
"I think Russell knew it wasn't a foul," said Boyd. "He said that to us, but it is part and parcel of football.
"I felt as if he slipped and I think Russell knew that himself."
Boyd looked to place a hand on the Aberdeen centre-half's shoulder as they chased a high ball over the visiting defence, the argument being about whether it was strong enough to constitute an infringement.
Aberdeen manager Derek McInnes disagreed with Boyd's assessment of the controversial moment during
"I thought it was a foul," he said. "The ball was bouncing and I just think there was enough force with the arm on Russell's shoulder to knock him off balance.
"If he goes in with his body, possibly, and knocks Russell to the ground, it would be slightly different, but I do think there was a strong arm on his shoulder and the push was enough to knock a really strong boy off his feet."
Kilmarnock manager Allan Johnston thought a goal, which would have put his side in the driving seat after 11 minutes, should have stood.
"I think in the first half we had some great opportunities and Boydy's got pulled back for a free-kick and it didn't look like a free-kick from my point of view," he said.
"He's just outmuscled him and it's a great finish after that, but the referee's possibly closer to play than what we were.
"If you are going to give a free-kick for that, you are going to be stopping play every two seconds. It was never a free-kick."
Johnson thought his side were unlucky to lose to Mark Reynolds' header seven minutes from time as they sought a third straight home win.
"We had another couple of great opportunities that we've maybe got to finish against teams of Aberdeen's quality," he said.
"In the second half, they put us under a lot of pressure, but that's down to the conditions, it was very windy, and it's just disappointing that we switch off and lose a goal from a corner."
Scotland striker Boyd was angry at himself for passing up a couple of chances.
"We're disappointed to put so much into the game and come out with nothing," he said.
"We've had two or three chances. I've had two myself that I probably should have scored with - the one I go through one on one especially.
"But, give credit to Jamie, it's a great save - he stood up well and managed to get it away."