Robert Lewandowski: Bayern signing 'to give all for Dortmund'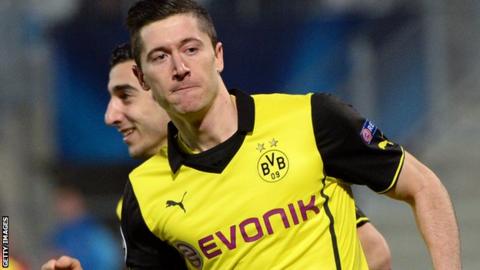 Robert Lewandowski says he will not let his performances drop for Borussia Dortmund before he joins Bayern Munich in the summer.
The Poland international, 25, signed a five-year deal with Bayern on Saturday and will join the 2013 Champions League winners when his Dortmund contract expires in June.
Lewandowski said: "There are still some goals we want to achieve.
"I for one will give my all [for Borussia Dortmund]."
He added: "I hope you will support me, even if some of you don't agree with my decision."
Lewandowski, who joined Dortmund in 2010, has scored 15 goals in all competitions for the club this season.
Meanwhile, Bayern Munich chairman Karl-Heinz Rummenigge says Lewandowski's summer arrival does not mean top scorer Mario Mandzukic will leave the club.
Like Lewandowski, Croatia international Mandzukic has 15 goals this season, and Rummenigge said: "He's a fantastic player who has come on leaps and bounds with Bayern.
"His contract runs until 2016 and I told his advisor in Marrakech that we would be willing to talk about an extension. We have absolutely no intention of selling Mario."