Jose Mourinho: Chelsea squad contains no divers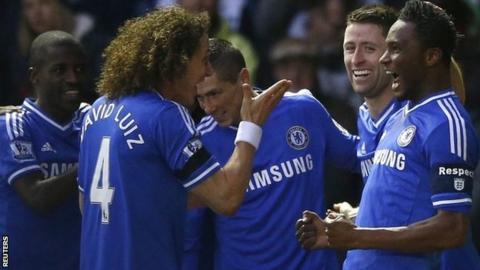 Chelsea manager Jose Mourinho has insisted he has no divers in his squad, despite seeing a player booked for the offence in successive games.
Ramires, 26, was punished in the 2-0 FA Cup third-round victory at Derby four days after Oscar, 22, was cautioned for simulation in the win at Southampton.
Mourinho had declared there were "no divers" in his squad on New Year's Day, and he repeated the claim on Sunday.
"I maintain [there are no divers at Chelsea]. Isolated episodes," he said.
"The referees attacking it. The manager supporting the referees. I think we are doing well. Let's see if the others do the same as us."
Mourinho has talked about the issue regularly in recent weeks, starting with an accusation that Liverpool's Luis Suarez was "doing an acrobatic swimming pool jump" when he went to ground under a Samuel Eto'o challenge in the penalty area during Chelsea's 2-1 Premier League win on 29 December.
In Chelsea's following game, he said he had no complaints when Oscar received a yellow card for tumbling over Southampton goalkeeper Kelvin Davis as he accepted the Brazilian's explanation that he was "trying to touch the goalkeeper instead of the goalkeeper smashing him".
On Sunday, Ramires appeared to fall unnecessarily in the penalty area against the Rams - and Mourinho again backed referee Andre Marriner's decision.
"Marriner was so close so if he made that decision it's because he's right," added Mourinho, who will talk to Ramires.