Bournemouth supporters raise funds for Burton fans to travel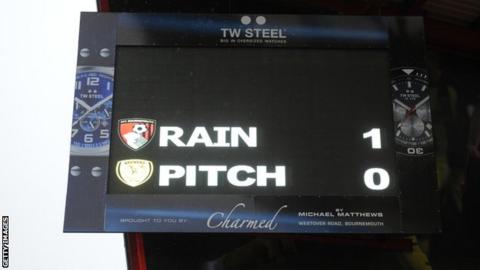 Bournemouth supporters have raised almost £3,000 to help Burton fans travel to their re-arranged FA Cup tie.
On Saturday, the original game was called off just an hour before kick-off because of a waterlogged pitch.
The late postponement meant around 200 Burton fans made a fruitless 300-mile round trip to the south coast.
Bournemouth supporter and initiative organiser David Whitehead told BBC Radio Solent: "It shows there is another side to football."
Whitehead set up the fundraising page after recalling the generosity shown by Burton supporters when Cherries fans celebrated promotion from League Two at Burton's Pirelli Stadium in 2010.
"They were so hospitable that day that there's been a special feeling between the clubs ever since," he said.
At the time of writing, pledges totalling £2,930 had been made, more than three times the original target of £800.
Whitehead continued: "We've been overwhelmed by the response, which has come from supporters of clubs all over the country, and even some from abroad.
"We've now capped the fund at the cost of paying for three coaches, and asked Bournemouth manager Eddie Howe to nominate a charity to receive the remaining funds."
Bournemouth chairman Jeff Mostyn said: "It's just the most incredible gesture and I think it's probably unprecedented in football for supporters to be so generous.
"On that day when we were promoted, after years of grief and struggling, for Ben [Robinson, Burton chairman] and all of his staff, the groundsmen and the stewards, to let us have the run of the ground was something that was incredible.
"Stewards by their very nature are designed to hold crowds at bay, but they were joining in the celebrations as well, and our supporters have never forgotten it."