Oxford United: Kassam Stadium planning approach to council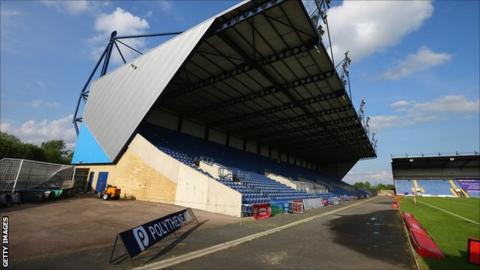 Advice on possible residential development on land around the Kassam Stadium is being sought from Oxford City Council.
BBC Radio Oxford has learned builders Taylor Wimpey are looking to build around 250 houses or flats.
They would be sited primarily on an overflow car park behind the cinema close to the stadium.
Oxford City Council head of city development Michael Crofton-Briggs said: "This is very early days."
It is understood some residential property is being proposed for the corners of the stadium itself, which are currently vacant - but that planners will insist the possibility of a fourth stand being constructed to complete the stadium must not be compromised.
Crofton-Briggs said two areas of possible development had been identified: around the stadium itself, and on the overflow car park.
"The football stadium has to remain. It is about making better use of the car park areas. There will still need to be an adequate level of parking to meet the needs of users of the stadium and the leisure complex nearby."
Small-scale shops to serve the new housing would be included in the proposals, if they proceed.
Crofton-Briggs continued: "We would want to encourage the prospective developer to make contact with the local community, organisations, elected councillors and the general public, long before they make a formal application to us, so there can be come form of dialogue and engagement with local people and they get their chance to make their comments on the proposals that are emerging."
Mark Sennett, chair of Oxford United supporters group Ox Vox, said supporters needed to know more details.
He said: "The only type of project we would support is one that would be beneficial to Oxford United football club."
Last year Ox Vox successfully applied for the stadium, which is owned by Firoka, a company controlled by former Oxford United owner Firoz Kassam, to be listed as an asset of community value.
This means the group must be notified if the ground is to be sold and will then have six months to put together their own bid for the stadium.
"This could trigger that [right], but it is very early stages, we have had positive conversations with the Council and the football club and this could be an opportunity.
"We look forward to talking to Taylor Wimpey and to having further conversations with Firoka to see if there is a way we can bring the football club and the stadium either back into club ownership or community ownership."