2014 Fifa World Cup: A huge year in the history of Brazil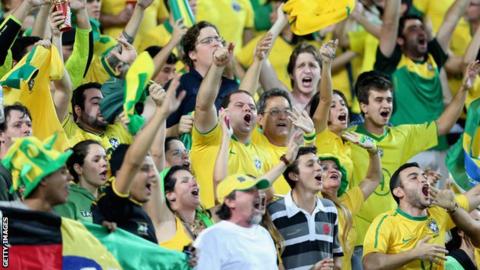 Going back home from a game on the underground can be a fascinating experience.
At first nearly everyone in the carriage has been to the match, which seems like the only thing that counts. This is soon diluted as fans get out and new people get on, at which point the mix can be interesting.
A couple of months ago I was taking the tube back from a midweek game at Rio's Maracana stadium. The local side in action had been Fluminense, the traditional club of the Rio elite, and a group of young, self-proclaimed playboys were drawing attention to themselves, banging a rhythm on the side of the carriage as they belted out their songs.
The train went through the city centre, picking up people who had been working late, studying or had been for a drink after work. Suddenly one young man, a studenty type in his late 20s, could take no more. He yelled at the playboys, railing at the amount of public money that had been spent on the Maracana, the high price of the tickets and the distorted priorities of the Brazilian state.
Many nodded in agreement. Then one middle aged man, not noticeably a football fan, turned to him and said "shut up, black bloc!" This reference to the radical wing of the protest movement seemed sufficient to end the debate.
Is there any wider significance in this little exchange? Does it shed any light on the dynamic of the protests that flared up in Brazil last June and July - and which, we now know, made Fifa contemplate suspending the Confederations Cup? There will certainly be more protests during the World Cup. But will they mobilise the same astonishing number of people who took to the streets a few months ago? Or might some have been alienated by the activities of the radical fringe?
That is one possible scenario of many in what promises to be a fascinating, unpredictable, vibrant year in the history of Brazil. One of the most interesting aspects of the protest movement is that no-one really knows how it is going to play out. After all, no-one saw it coming - even though the causes were right in front of our noses.
Perhaps the key date in recent Brazilian history came almost 20 years ago, when an economic plan managed to eliminate the hideous tax on the poor which was hyper-inflation. With monetary stability, millions were incorporated into the financial system where they could be offered credit - which has done much to fuel the consumer-based boom the country has been living over the last decade.
That boom is showing signs of flagging - but with incomes not falling and unemployment low, people still feel safe enough to protest. Moreover, a new generation has seen and felt significant change in its own short lifespan. It knows that change is possible, and wants to see more of it, as soon as possible.
The boom, then, has created a culture of rising expectations. And it has also clogged up the roads in Brazil's big cities. More credit and more prosperity mean more cars on the same old roads - and without significant investment in mass transport infra-structure. It is no coincidence that the protest movement flared up on the issue of public transport - and only afterwards focused much of its fire on public spending on football tournaments.
The World Cup was supposed to help improve the situation. Brazilian society was explicitly told that all the money spent on stadiums would be private, leaving the public purse free to invest in infra-structure. But that is not the way that things have turned out at all.
Instead, the 2014 tournament has strengthened the view that a new Brazil is still broadly dominated by the old power structure, full of selfishness, short termism and incompetence. The authorities had years to ensure that the World Cup would be relatively cost-effective, but they were frittered away in political games.
The outcome is a self-created emergency, a rush in which the price of what has to be done (the stadiums) goes up, while the scope of what can be done (public transport projects) goes down. It is no wonder people are angry.
But how will this manifest itself this June and July? On the face of it, there is more to protest about than there was last year. The Confederations Cup used six host cities. The World Cup will use 12, including the most controversial, Manaus and Cuiaba, where the wisdom of constructing expensive new stadiums is certainly open to question.
Then there is the megalomaniacal Brasilia stadium, the most expensive of the lot. It only staged the opening game in the Confederations Cup, before the protest movement had picked up steam. This year it will play host to seven games, and will also be a likely target for popular outrage.
But how many will be out on the streets making their feelings known? That new generation has sensed its power, flexed its political muscles. Some will surely want to do it all over again. And this is election year in Brazil. Someone will be looking to channel events into votes.
On the other hand, the World Cup is, by a scale hardly worth measuring, much more important to Brazilian society than a Confederations Cup ever could be. This is the moment when, historically, their country has appeared to the rest of the planet as winners. Every four years it is as if Brazil is celebrating its own jubilee, decorating its streets to get in the mood for the football. Might some feel reluctant to protest at such a time? And might others, as we have seen, be wary of being caught up and confused with the radical wing?
There is no fixed answer to these questions. But there is one theory. The work of the police, and the security forces, will be fundamental. If they over-react or use belligerent tactics, a camera will pick it up, be it from a TV news crew or a mobile phone.
Those images will fly around the country and inflame public opinion. And that could be the difference between a World Cup with peaceful protests, and something more dangerous.
Send questions on South American football to vickerycolumn@hotmail.com, and I'll pick out a couple for next week.
From last week's postbag;
Brazilian Diego, who plays in the Bundesliga for Wolfsburg, has been linked with several Premier League clubs in this transfer window. I've not seem much of him recently but at Atletico Madrid he seemed a terrific player akin to the likes of Deco, however he seems to have not had a look in with the national side. How do you rate him? Adrian H
He was a favourite of mine ever since he was carrying the Santos side on his shoulders at the age of 17 back in 2002. I really hoped that he would prove to be a pocket Zidane. He's had his ups and downs, with some good moments along the way, but I have to confess that he hasn't come close to achieving what I thought he was going to do.
He did have plenty of opportunities for Brazil, especially in the early stages of the 2010 World Cup qualifiers. To be fair, though, he rarely managed to stamp himself on proceedings, and then-coach Dunga was probably justified in discarding him after a poor performance in a 0-0 draw at home to Bolivia in 2008. He hasn't been in since - though, for what it's worth, I think he still might be worth a look as a substitute, with the capacity to open up the field against tiring defences in the second half.