Liam Fontaine: Bristol City 'like a new club'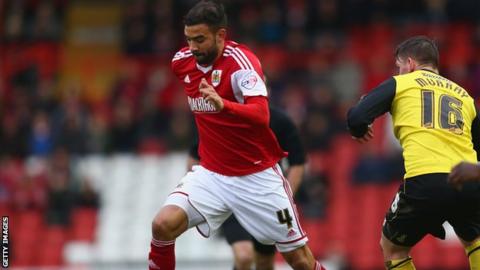 Liam Fontaine says trying to re-establish himself at Bristol City will be like proving himself at a new club.
The 27-year-old defender returned from a loan spell with Yeovil Town to start in Saturday's 1-1 draw with Watford. in the FA Cup third round.
"There are a lot of new faces around so it feels like a new club," Fontaine told BBC Radio Bristol.
"I feel good in myself - I got what I needed to get out of being away and I'm glad to be back."
Fontaine has played 292 times for City but his appearance against Watford was his first since the 2-1 victory over Crystal Palace in the League Cup in August - as well as his first under manager Steve Cotterill.
"I have to thank him because I wanted to get back out there and put everything behind me now," Fontaine explained.
"I think it has been a disappointing 12 months for the club and on a personal note as well.
"There is no point looking back and I'm very much looking forward."
The former Robins captain also praised the club's supporters for welcoming him back to Ashton Gate with a standing ovation when he was substituted against the Hornets.
"It felt great and I'm thankful to the fans," he added. "It is good to be out there in Bristol City kit. The atmosphere was great and it felt like the Bristol City of old."
Cotterill, whose Robins side have lost just one of his six games in charge, said the crowd reaction summed up Fontaine's performance and underlined his place at the club.
"The fans' reaction is always a good gauge and I thought they were fantastic when he came off," he stated.
"I know he has had some rough times here, but we have to move on from those times. I thought he did well because it was probably a big occasion for him - bigger than what people would think.
"Going in there Karleigh Osborne and Flinty [Aden Flint], who I thought was magnificent, helped him because those two are on top of their game at the moment."