Irish League referees ordered to declare connections with clubs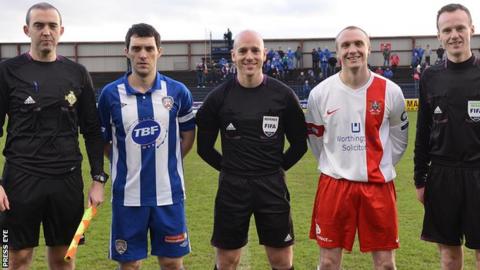 Referees in Northern Ireland have been told to declare potential conflicts of interest after it was found a player's brother officiated at a senior match.
Gavin Hegarty was an assistant ref in the Coleraine v Ards Premiership game on Saturday - even though his brother Michael was the home team captain.
"If we had known what we know now, we would not have made that appointment," said referees' chief David Malcolm.
"However, nobody is questioning Gavin's integrity."
Malcolm, who is Chief Refereeing Officer of the Northern Ireland Football League, also addressed the matter of the recent publication of a photograph of referee Keith Kennedy in a Linfield shirt.
Kennedy, recently promoted to the Irish Premiership's list of match officials, took charge of Linfield's match against Warrenpoint Town last weekend.
"Keith Kennedy was a season ticket holder at Linfield but since taking up refereeing has not been involved with that club in any shape or form," said Malcolm.
"My understanding is that Keith has not been a Linfield supporter or season ticket holder for five or six years.
"He is embarrassed about the photo - but it was taken in 2007 at the Irish Cup final.
"Just because someone has a past, does not mean they cannot have a future in refereeing."
Malcolm, however, conceded that the Hegarty case was one in which a potential conflict of interest arose.
"We appoint 90 referees every week. There is no way I can tell you who their fathers, mothers and brothers are," he added.
"The onus is always on the referee to declare it.
"Gavin, who was on the line for the Coleraine match, made his debut. It was an excellent debut and it is unfortunate it has been overshadowed.
"The onus was on him. I believe he took some advice from colleagues in his locality and I am afraid it was bad advice.
"He did not tell me or the league. If he had, we would not have let the appointment stand.
"We have been a bit naive. We must learn from that and make sure it does not happen again."