Hearts: Administrator thwarted in transfer ban talks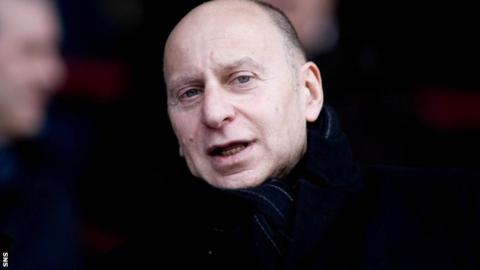 Hearts' administrator has failed in its effort to have the transfer restrictions at Tynecastle lifted.
Bryan Jackson, of BDO, said discussions with the Scottish FA had failed to bear fruit, with the ban in place until Hearts come out of administration.
"We've put all the arguments forward and, not surprisingly, they've all been rejected," he told BBC Scotland.
The Edinburgh club are bottom of the Premiership, 19 points behind Ross County.
Hearts entered administration in June, with BDO reporting debts in excess of £28m.
Sunday's defeat at home by Partick Thistle saw the troubled Edinburgh outfit, who are operating with a smaller squad this season, slip 20 points behind their opponents.
And Jackson sympathises with manager Gary Locke's plight.
"Nothing is going to change with regard to the sanctions and I feel really sorry for Gary in that we can't do anything to help him," added Jackson.
"Those restrictions are there, we've tried and there's nothing we can do about it.
"We're sticking with Gary and hopefully Gary's sticking with us. He's shown fantastic loyalty since we went into administration and we have to show the same to him.
"Everybody knows he's a Hearts man through and through; quite frankly to even think of changing management at this time, with the squad of players we've got, you'd have to be some kind of miracle worker.
"Gary's doing incredibly well with the resources that he has. Anybody else coming in, they're going to have the same resources. You also have to remember that we're here, hopefully in a temporary capacity.
"So, that's a major decision and something to be considered for the future. That would be for new owners rather than the administrators."
Jackson said he remains "cautiously optimistic" that Hearts will come through their financial problems.
"It is about saving the club and I hope all the fans will continue to turn up, support the team and hopefully we can get through the next few months successfully," he added.