Theo Walcott loss is England World Cup blow - Roy Hodgson
Last updated on .From the section Arsenal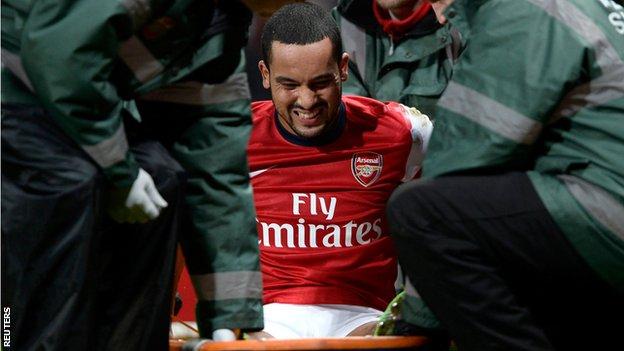 England coach Roy Hodgson says losing Arsenal winger Theo Walcott for the World Cup is a blow.
Walcott, 24, is to have surgery after suffering a cruciate knee ligament damage against Tottenham on Saturday, with the Gunners stating he will be out for "at least six months".
"It is such a shame that we have lost a player of his calibre for the World Cup," Hodgson told the FA's website.
"It is a blow for him personally, and for both Arsenal and England."
Walcott picked up the injury late in the Gunners' 2-0 FA Cup win over their north London rivals when he appeared to catch his studs in the turf as he raced back to make a defensive tackle.
He was carried off on a stretcher, but seemed in high spirits when making a gesture of the scoreline to the Spurs fans inside the Emirates Stadium.
Hodgson, 66, added: "Having worked with him for two years as England manager I know the character he has, and I know he will come back even stronger from this setback."
However, a leading expert in sports rehabilitation has told BBC Radio 5 live that Arsenal have been premature in dismissing the player's chances of playing at Brazil 2014.
"They've put an unnecessary timeframe on it now," said Michael Davison, who runs a Fifa medical centre of excellence in London.
"You have opportunity to undertake surgery, and then think about the motivation of the player and look at early weeks of rehab before actually making decision whether he can or cannot go."
Former Premier League player Danny Higginbotham, who had the same injury while playing for Stoke, said the England international could be risking his career if he came back too early.
"Forget the World Cup," the 35-year-old Altrincham player told BBC Sport.
"He's a young lad with at about 10 more years of playing time - why risk something like that?"
The current Gibraltar international added: "Theo should concentrate on getting his rehab right and make sure he's in a good position for pre-season so that he can be ready for next campaign.
"He should put the World Cup to the back of his mind and everybody involved should tell him the same. To me it's unrealistic."
Higginbotham suffered his anterior cruciate ligament injury in April 2011 while playing for the Potters against Chelsea although he was keen to play in the club's FA Cup semi-final against Bolton two weeks later.
He added: "I asked the doctor whether he could give me an injection so I could play. He looked at me and responded, 'what did you say?'
"I did get back into things after five months, but I didn't feel the same when I returned. However, you have to take into consideration that I was 32. Theo has time on his side."
Higginbotham said the rehabilitation process, after the impending operation in London, will be mentally taxing for Walcott, who was a non-playing squad member for the 2006 World Cup and then omitted from the squad for the 2010 finals.
"The issue is the fight with yourself in rehab," he continued.
"You become really good friends with the physio, but also end up falling out with the physio.
"They become a punchbag for you. It's a mentally draining time. You do the same monotonous things day in, day out."