Tom Eaves: Shrewsbury Town extend Bolton striker's loan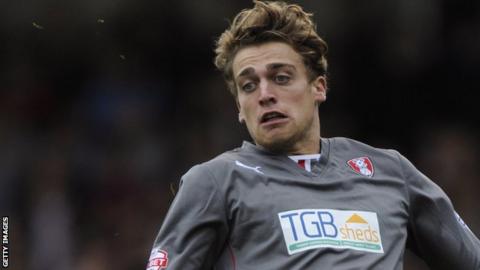 Shrewsbury Town have extended Bolton Wanderers striker Tom Eaves' loan until the end of the season.
But the League One club have opted not to extend West Bromwich Albion defender Cameron Gayle's deal.
And Town boss Graham Turner is waiting to discover if he is allowed to keep young Middlesbrough winger Adam Reach.
"Middlesbrough have a new manager, so he's gone back to meet him, to take part in some training sessions," Turner told BBC Radio Shropshire.
"But he's told me - if he doesn't get near playing for the first team, he'd be happy to come back to Shrewsbury.
"We want him. He's improved in his time with us and Middlesbrough want him to come back to get more experience, so I'm hoping we'll see him back here soon."
While 20-year-old Reach's immediate future is in the hands of Boro's new Spanish manager Aitor Karanka, Turner is pleased to have got 21-year-old Eaves signed up.
"I don't think we've seen the best of him since he came back," said Turner. "But we know he can score and the more games he plays the better he'll get.
"He's got pace and mobility. He scored some spectacular strikes for us last season and he can cause defenders problems.
As for the decision not to renew 21-year-old Gayle's loan, Turner points to the emergence of their own product Ryan Woods.
"We've got enough cover at full-back," added Turner. "Ryan Woods can play there and, while we have extended Connor Goldson's deal at Cheltenham, we have a 24-hour recall on him."
Town also last week allowed striker Gozie Ugwu to return to Reading, leaving Turner with just two loan men, Eaves and Preston midfielder Nicky Wroe, whose current deal does not expire until the end of the month.
Shrewsbury also have Asa Hall back following the end of his six-month loan with Oxford United.
"He is back with us and available for transfer," said Turner. "I don't think Asa has fitted into what I want to do here.
"He's had half a season with Oxford and, from reports, he has done very well. They are flying high in the league and I've been somewhat surprised that there haven't been any moves to extend it."