Port Vale: Micky Adams no less committed - Norman Smurthwaite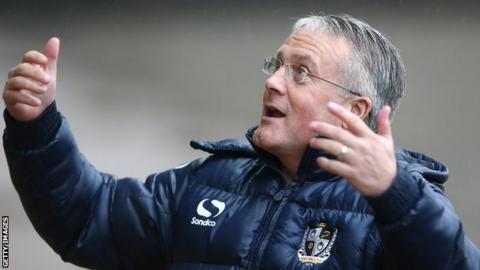 Port Vale owner Norman Smurthwaite insists that manager Micky Adams is still just as committed as ever to the club, despite his contract expiring at the end of the season.
Adams' current deal, along with 14 of his players, is due to run out in June.
But Smurthwaite insists that, in the wake of speculation to the contrary, the 52-year-old is going nowhere.
"He will stay at this club as long as the challenge is big enough for Micky," Smurthwaite told BBC Radio Stoke.
"I want to make it very clear after all the rubbish I've read that we're very lucky to have him at this club. What he's put up with before and including my tenure is very unnerving.
"He's no less committed than he has been in all his time at the club.
"When we win he's elated and when we lose he takes it personally very hard. People who aren't committed don't have those traits."
Having returned to the club from his ill-fated sojourn at hometown club Sheffield United, Adams was significantly hindered in his first season back by Vale entering administration.
He then more than made up for that frustration in the following campaign, overcoming a failed takeover bid - prior to Paul Wildes taking over - to astonishingly return the club to English football's third tier last term.
He has since built on that this season, leading Vale to eighth in League One, just two points adrift of the play-off places.
And, although Adams was hampered by having to take time off to undergo a hip replacement operation back in the autumn, Smurthwaite insists that there was no detrimental effect on his control of the team - and that he is all the better for having had surgery.
"I asked him to go for his operation before he did as I felt the pain management wasn't doing him any good," explained Smurthwaite. "He's now more relaxed.
"Micky Adams is my CO. We have a great relationship.
"The fans should be more worried about me falling over and having a stroke, because, if I was to disappear tomorrow, my family wouldn't give the support that I'm giving."
Smurthwaite also revealed that his latest appointment at Vale Park, John Green, a contact he made on the sportsman's dinner circuit, has arrived initially purely in an advisory capacity.
"I asked him in an overseeing role," said Smurthwaite. "For the first month he won't even be paid.
"He's giving me direct answers and telling me how it is.
"We're failing in some areas of commercial activity, but I have a responsibility to my existing staff. I want to find out first if we have the people in the club that can put it right."