Fifa president Sepp Blatter critical of Brazil's World Cup preparations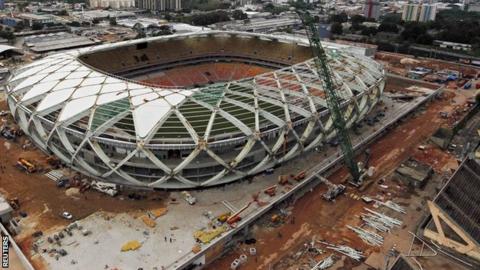 Fifa president Sepp Blatter has accused Brazil of being badly prepared with five months to go before it hosts this year's World Cup.
Six of the host nation's 12 stadiums have failed to meet Fifa's 31 December completion deadline.
Three workers have been killed in recent accidents at stadiums in Sao Paulo and Manaus.
"No country has been so far behind in preparations since I have been at Fifa," Blatter told a Swiss newspaper.
The 77-year-old has worked for Fifa since 1975, becoming president in 1998.
He added: "It is the only host nation which has had so much time - seven years - in which to prepare."
The tournament opens on 12 June when the host nation face Croatia in Sao Paulo's Arena Corinthians, where two workers died when a crane collapsed on to part of the roof on 27 November.
That accident delayed the stadium's completion date by several months, and it is not expected to be ready until mid-April.
Construction problems and public protests about the financial costs of hosting the World Cup have beset Brazil's preparations for the tournament.
Brazil - which lasted hosted the World Cup in 1950 - was awarded this year's finals in 2007.
But when asked if the country had understood the scale of the work required, Blatter replied: "No. Brazil has just found out what it means and has started work much too late."