Mark Clattenburg: Southampton complaint dismissed by FA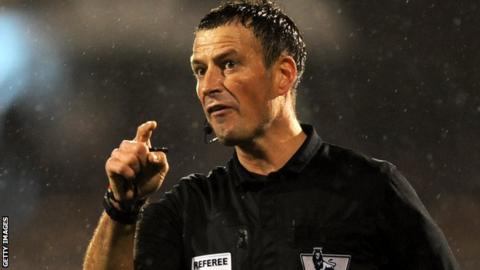 Referee Mark Clattenburg has been cleared by the Football Association after Southampton took their complaint against him to the governing body.
Saints accused Clattenburg of insulting captain Adam Lallana during the 2-1 defeat at Everton last month.
The official is believed to have told Lallana: "You're very different now you've played for England. You never used to be like this."
The Premier League dismissed an initial complaint from the club last week.
The FA said in a statement it had given the matter its "full consideration" and "the comments, as disclosed in Southampton's letter of complaint, do not constitute misconduct under the FA's rules".
It added: "Consequently, the FA will not be taking any further action in relation to this matter and now considers this case to be closed."
Despite their complaint being rejected, senior figures at Southampton believe it will be difficult for Clattenburg, 38, to officiate one of their games in the near future.
The club believe the situation has highlighted flaws in the existing system, with former referees, rather than an independent panel, appointed to rule on cases such as these.
Professional Game Match Officials Limited general manager Mike Riley says officials will wear recording devices, but that is yet to be implemented.