Theo Walcott injury gives Arsenal and England problems to solve

By Phil McNulty
Chief football writer
Last updated on .From the section Football1519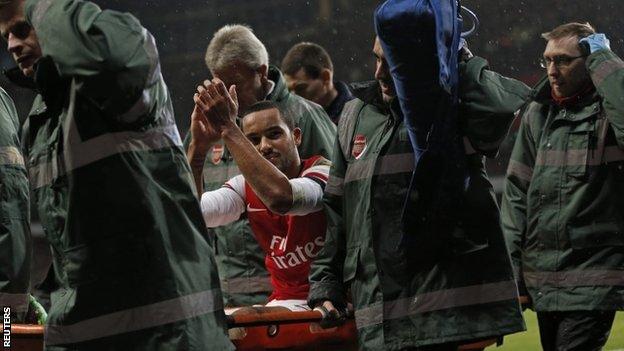 Theo Walcott hardly looked like a man being carried towards one of the lowest points in his career - and another chapter in his cursed World Cup history - as he was taken off on a stretcher at Emirates Stadium on Saturday.
As he departed, however, he was in high enough spirits to remind Spurs fans of the score after being pelted with objects from the away section - and also to acknowledge the acclaim of Gunners supporters who tossed scarves in his direction with smiles and waves.
Arsenal manager Arsene Wenger, perhaps burying bad news or simply unaware of the seriousness of the incident, only offered up the possibility of a stretched ligament or ever the lesser problem of a kick on the knee.
So there was widespread shock when it was announced Walcott had sustained an injury any player dreads, especially those with pace, by rupturing an anterior cruciate knee ligament which will keep him out for at least six months.
At a stroke, it ruled him out of the rest of Arsenal's season and England's World Cup campaign in Brazil this summer. And it counts as a devastating setback for the 24-year-old.
The Football Association decided not to punish Walcott for his gesture towards Spurs fans, but what followed later meant this counted as no form of consolation to this popular, likeable individual.
Arsenal will feel the pain as they lead the Premier League with their best opportunity to claim the title in years while England manager Roy Hodgson has lost a player who can serve him on the flanks or through the middle.
Even before the ramifications for Arsenal and England are explored, it is another tale of World Cup woe for Walcott as he continues to endure an unfulfilling relationship with the sport's biggest showpiece.
Walcott was a shock inclusion in Sven-Goran Eriksson's squad for the 2006 World Cup in Germany as a 17-year-old even before he had played a Premier League game. It was a farcical selection. He was reduced to resembling a tourist without ever coming near the team.
In 2010, he was the surprise omission from Fabio Capello's squad for South Africa - so he will be 29 before he gets the chance to have a crack at a World Cup finals.
Over and above the desolation Walcott will have been feeling on Monday evening, there are serious consequences for Arsenal, arguably even more so than for England.
The numbers and quality of Arsenal's attacking resources were already under scrutiny even before Walcott was removed from the equation.
Now Wenger, understandably very cautious about investing in January anyway, will be considering his transfer options with his usual rider - is there anyone out there who can actually be bought who is better than what he has got?
Arsenal's boss would want players of a standard to make an instant impact in the Premier League and also, preferably, when they face Bayern Munich in the Champions League. Individuals of that stature are usually found in the Champions League already at this stage of the season and cannot be moved.
There is no doubt, however, that Walcott's injury hits Arsenal two-fold. He was able to use his pace on the flanks for Arsenal but he showed his quality through the centre as a constant threat against Spurs on Saturday, his performance drawing great praise from his manager.
Wenger has relied heavily on Olivier Giroud this season, although he missed out against Spurs through illness. Lukas Podolski has only just returned from months on the sidelines with a serious hamstring injury, while Nicklas Bendtner is out for a month with ankle trouble.
The good news is that Alex Oxlade-Chamberlain is close to a return to training after being out since the opening day of the season with a knee injury. This will receive an even warmer welcome from Wenger and Hodgson after the severity of Walcott's injury was revealed.
At the back of his mind, though, Wenger will be weighing up whether to move into the market with the possibility of winning the title such an enticing prospect after their fine season to date.
Arsenal have been linked with Bayern Munich's Mario Mandzukic but Wenger appears to have accepted he will not be sold in January while the prospect of putting together a deal for Atletico Madrid's brilliant striker Diego Costa also looks out of bounds as they challenge for La Liga and remain in the Champions League - and that is even before the cost of such a deal is considered.
Real Madrid's Alvaro Morata has also been mentioned as a loan target but coach Carlo Ancelotti insists the window remains firmly closed, in and out, at the Bernabeu - so Wenger may have to throw his scouting net even wider.
Wenger also appeared to close the door on speculation linking him with Fulham's Dimitar Berbatov. Will this change his mind?
As for Hodgson, this will be the sort of news he feared ahead of a tough group stage in Brazil, having been robbed of Frank Lampard, Gary Cahill and Gareth Barry in the final days before Euro 2012, where he also had to do without a suspended Wayne Rooney for the first two games.
He will already be working potential contenders to replace Walcott - although one who emerged with such credit in England's final two World Cup qualifiers against Montenegro and Poland, Tottenham winger Andros Townsend, is also currently sidelined with a hamstring injury.
Oxlade-Chamberlain's progress will be closely examined by an England manager who holds him in high regard, while Spurs winger Aaron Lennon may see Walcott's absence as a chance to revive his international career.
Southampton's Adam Lallana showed enough, even as England lost their two Wembley friendlies against Chile and Germany in November, to place himself in Hodgson's thoughts. His chances of travelling to Brazil will have improved with Walcott now out of all calculations.
Liverpool's 19-year-old Raheem Sterling has shown improved form recently after a poor spell but he will surely have to improve further - and over a longer period - to be seriously considered.
All this will now be deep in the thinking of Wenger and Hodgson as Walcott contemplates another England World Cup campaign as a spectator.