Hearts: Manager Gary Locke defended by Billy Brown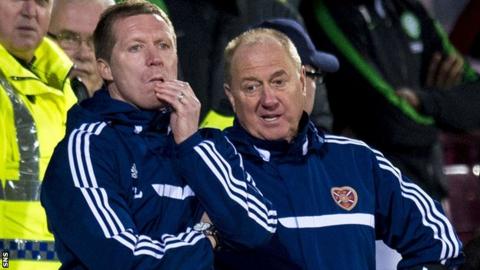 Hearts assistant Billy Brown has defended his manager Gary Locke and insists criticism of the 38-year-old is uncalled for.
Locke's side started the season with a 15-point deficit and at the foot of the Premiership.
And mean Hearts cannot bring in new players.
"We could be in danger of trying to push somebody out of the door who could become one of the best Hearts managers," Brown told BBC Scotland.
"Take it from me, this is a switched-on guy. Gary Locke, under the circumstances, is doing exceptionally well.
"This is a good, good lad that's passionate, behind the club and knows what he's doing. He's meticulous in what he's doing.
"He hasn't been able to sign a player. But, the players I know that he wanted to sign last summer, if that's the kind of players he'll sign, Hearts are in for a good future.
"Day-to-day, everybody's up for the fight. Everything possible's being done to get results but it isn't easy.
"We can only keep working with the back four or working with the shape of the team. You cannot put individual errors right on the training ground."
Administrator Bryan Jackson has been unable to reverse any of the signing restrictions placed on Hearts while they are still in administration.
In recent games, Hearts have only named five substitutes because of injury and suspension problems.
And Brown fears Hearts games may become uncompetitive.
"We could get to the stage where we would have to play 15-year-old boys or ask for the game to be postponed," Brown added on Sportsound.
"Now, I'm not denying that Hearts have got to be punished. I didn't like what they did, the way the club was run; it wasn't right and a lot of people suffered from that.
"We're not trying to sneak out of our responsibilities or sneak out of our punishments. All we're looking for is for people to understand what might happen.
"You're asking supporters to pay £20-28 to watch Scottish Premiership games and they may have to watch a team that's not competitive. We might have to put young boys in that are at school. Surely, that isn't right."