Manchester United: Why Old Trafford has lost its fear factor
By Jonathan Jurejko
BBC Sport
Last updated on .From the section Football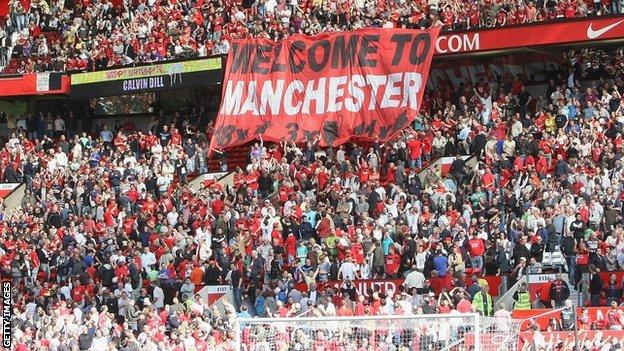 Since being christened the "Theatre of Dreams" by Manchester United legend Sir Bobby Charlton, Old Trafford has generally been only a source of nightmares for visiting managers and players.
As Sir Alex Ferguson built United into one of the world's most successful clubs, the iconic ground became Britain's biggest club stadium, with a capacity of almost 76,000.
But the aura around the 104-year-old venue was not simply about bricks and mortar. It was about title-winning teams, Ferguson barking orders from the touchline and the illustrious names lined up in the red of United.
With Ferguson no longer at the helm, things have changed. Under David Moyes, his successor, United have won four and lost four of their opening 10 home matches in the Premier League this season.
That equates to a win percentage of 40% - United's lowest at this stage since 1989-90, when they were three seasons away from winning the league title after a 26-year drought.
So has the 'fear factor' that made many visiting players freeze at Old Trafford now disappeared?
Stoke City boss and former United striker Mark Hughes, who made 467 appearances for the Red Devils in two separate spells in the 1980s and 1990s, believes it has.
"Even when I was playing for Manchester United, you thought you had teams beaten in the tunnel," he says. "That's not the case now."
How bad is Manchester United's home form?
The defending champions, who finished nine points clear of nearest rivals Manchester City in May, have taken just 14 points from a possible 30 on home turf this season.
City boast a flawless 100% winning record in their 10 league games at Etihad Stadium while newly promoted Hull, under former United stalwart Steve Bruce, have claimed 18 points at the KC Stadium. Eight other teams also boast a better home record than Moyes's side.
Four teams - West Bromwich Albion,Everton,Newcastle and Tottenham - have won at Old Trafford, while Chelsea and Southampton secured draws.
Moyes's men, who are seventh, 11 points adrift of top spot, have beaten Crystal Palace,Stoke, leaders Arsenal and West Ham.
But their 40% winning record is their worst at this stage of a season in 24 years. And they have not suffered four home defeats in their opening 10 top-flight matches since 1962-63.
Swansea won at Old Trafford in the FA Cup last weekend, with even Moyes acknowledging afterwards there is less of a fear factor for opposing teams.
The Welsh club could condemn United to a third straight loss in front of their own fans when they return in the Premier League on Saturday - something which has not happened since 1962, when Sir Matt Busby was still rebuilding the club following the Munich air disaster four years earlier.
While Red Devils fans have been forced to stomach home defeats - like most fans across Britain - after years of impregnability, they have found solace in the Champions League.
Moyes's experience in Europe's premier club competition was limited to a qualifying-round defeat by Villarreal while managing Everton in 2005.
But any fears about the Scot's inexperience at that level have, so far, proved unfounded with United easing into the knockout stage, winning all three of their Old Trafford group games.
What made Old Trafford a fortress?
Thirteen Premier League titles. Eric Cantona's swagger. Roy Keane's drive. Cristiano Ronaldo's flair. United were formidable under Ferguson, who retired in May after nearly 27 years at the helm.
During his tenure, United recorded 370 league wins at Old Trafford. They suffered just 52 defeats there.
Former Sunderland and Blackburn defender Michael Gray describes it as "one of the most daunting" away grounds he visited in a Premier League career spanning 10 seasons.
"Most of the time you went there expecting to come away with nothing," said the former England international. "It was difficult going there - even in the tunnel you felt as though you were 1-0 down already."
Andy Mitten, Spanish football writer and editor of United fanzine United We Stand, says Swansea winger Pablo Hernandez told him he believes the stadium has something special that other world-famous venues lack.
Hernandez has played at some of the biggest grounds on the planet but admitted to Mitten - the day after his side's FA Cup win - that even the likes of Barcelona's Nou Camp and Real Madrid's Bernabeu struggle to match Old Trafford's aura.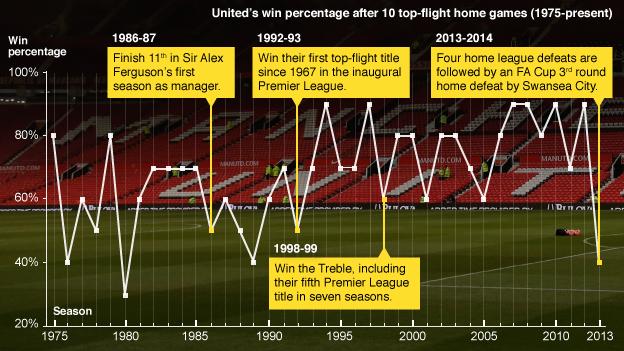 So how does walking out there affect the home players?
Former England defender Gary Pallister, who made 437 appearances for United between 1989 and 1998, says lining up in the Old Trafford tunnel used to give him an extra boost before games.
"It is a great thrill walking out there," he told BBC Sport. "Even now I still get that same buzz, That's because of its sheer size, but also because of its history and tradition.
"It is one of the iconic stadiums in the world. It is the Theatre of Dreams.
"When you become a United player you become aware of what Manchester United is all about - the great team that Sir Matt Busby created and was then decimated by the Munich air crash.
"When you walk down the tunnel, you feel all of that."
What has changed at Old Trafford?

Inevitably, it is difficult to look past one change - the departure of Ferguson. And, predictably, that has led to a knock-on effect.
A new manager arrived in the shape of Moyes, who replaced Ferguson's backroom staff with his own men.
Early defeats at fierce rivals Liverpool and City caused consternation among supporters, before they were left shocked by the manner of West Brom's marauding 2-1 success at Old Trafford in September.
Confidence drained, anxiety took over.
"Teams are more confident because they sense United are beatable - which they are," said Mitten.
"I've spoken to a couple of away players who have taken points from Old Trafford this season. They expected a far harder game."
Former Arsenal defender Martin Keown believes United have adopted a more cautious approach at Old Trafford under Moyes, who, he adds, has not been helped by injuries.
Moyes has only been able to pair England forward Wayne Rooney with Netherlands striker Robin van Persie, who scored 26 goals last season, in five of United's 10 home Premier League matches this season.

"Manchester United are not attacking quite in the same manner that they used to," said Keown. "Under Ferguson they might concede two goals but you knew they would score three.
"Now they don't have the same level of confidence when they attack. And that's because they have been without Robin van Persie and Wayne Rooney for a number of games.
"They have also struggled in the middle of the park, where they don't have Paul Scholes anymore - he pulled the strings for years - while Michael Carrick has been out for long periods."
As well as opposing players and managers, the mindset of referees has been changed by Ferguson's absence from the touchline, according to Neil Warnock.
The former Notts County, Sheffield United and Queens Park Rangers boss pitted his wits against Ferguson on several occasions, and believes opposing teams are starting to receive more favourable decisions from officials.
Moyes claimed it was "scandalous" that United were not awarded a late penalty when Tottenham goalkeeper Hugo Lloris slid out to challenge Ashley Young in last week's 2-1 home defeat by Tottenham.
"At the moment, we are seeing decisions going against Manchester United - which is unusual because they have had so many going their way in the last few years," Warnock told BBC Sport.
"Sir Alex being on the touchline must have been a factor."
Warnock's Sheffield United side were denied a penalty at Old Trafford in April 2007 on their way to a 2-0 defeat. A month later, the Blades were relegated from the Premier League with their goal difference one worse than nearest rivals Wigan.
"Our striker Luton Shelton got pulled down by United defender Gabriel Heinze and it was a penalty and a sending-off," claimed Warnock. "But referee Rob Styles gave nothing.
"Afterwards I said to Sir Alex: 'How did he not get sent off for that?' He replied: 'It's Old Trafford.' It was an intimidating place."
Under Ferguson, the Red Devils were famed for their ability to snatch game-changing goals in the latter stages of key matches.
But they have only scored once in the last 10 minutes of a top-flight game at Old Trafford this season.

Keown, who lost five of 12 matches at Old Trafford as an Arsenal player, thinks the United players have lost belief in their ability to rescue results.
"When you get used to going for the Premier League title and every result counts, you always go hell for leather for results," said the ex-England defender, who also helped the Gunners clinch a Premier League and FA Cup Double at Old Trafford in 2002.
"But United have suffered a series of results that make it difficult for them to win the title. They might not realise it but they have come down from their previous level."
Can the fear factor return?
"Absolutely," said former Liverpool defender Mark Lawrenson. But he warned it will take time for Old Trafford's aura of invincibility to return.
Lawrenson was part of the Reds side that turned Anfield into a fortress on their way to six league titles in the 1980s.
"Teams would come to Anfield and be negative," he said. "We would smell it. We would think to ourselves that it was not even going to be a contest."
However, the former Republic of Ireland international says Anfield was not always such a formidable place to visit.
Liverpool were European champions when he joined from Brighton in the summer of 1981, but they won only three of their opening nine league games at home in his debut season, prompting an overhaul of the side by manager Bob Paisley.
The Merseyside club then began to build momentum on their own patch, winning 11 of their remaining 12 top-flight matches as they clinched their 13th league title.
"What Moyes needs to do is do what Paisley did at Liverpool," said BBC Sport pundit Lawrenson. "But it will come down to the quality of the signings he makes, either this month or in the summer. Once he gets the players he needs, they will build some of that old momentum again."
Additional reporting by Chris Bevan, James Gheerbrant and Adam Williams.