Millwall: Ian Holloway confirmed as manager of Championship club
Last updated on .From the section Millwall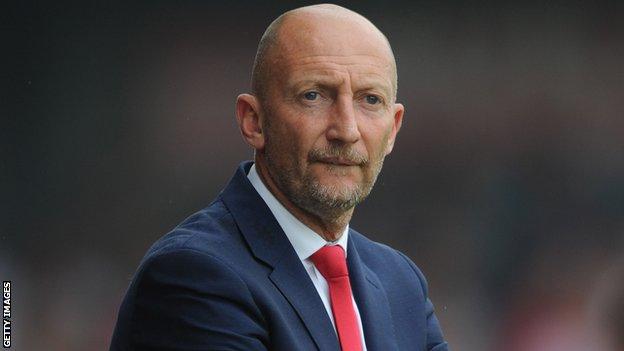 Ian Holloway is looking to quickly stamp his authority on Millwall after being confirmed as their new manager.
"I can't tell you how honoured I am to be a part of Millwall," Holloway told the club website.
"I'll try to galvanise them into a way of hard work and effort. A fresh voice in me might help them a little bit."
Holloway has joined the south London club with the Lions 21st in the Championship table, one point above the relegation zone.
They had been without a manager since sacking Steve Lomas on Boxing Day.
Holloway, who was out of work following his departure from Crystal Palace in October, was encouraged to pursue the vacancy at The Den by former Millwall manager Kenny Jackett, now in charge of Wolves.
"I got a phone call from a fantastic friend of mine in Kenny," he said.
"He recommended that I speak to [Millwall chief executive] Andy Ambler and [chairman] John Berylson. I asked him why, and he told me what kind of people they are.
"I met Andy on Thursday and John on Friday, and I was completely blown away for lots of reasons.
"Everything they want for the club completely mirrored how I feel. I've never felt so wanted in my whole life."
Holloway's immediate goals for the club, ahead of his first game in charge at Huddersfield on Saturday, are simple and straightforward.
"Hopefully we can stop losing; that's the first thing. I want them to enjoy their football and start getting some results under their belts," he added.
"I love the game - it's an art form - and you've got to believe in what you're trying to do.
"When you're getting beat it's not fun, and I want to enjoy my life. That's what I've told them. It's all about enjoyment and encouragement."