Manchester United: David Moyes says team are 'laughing at refs'
Last updated on .From the section Football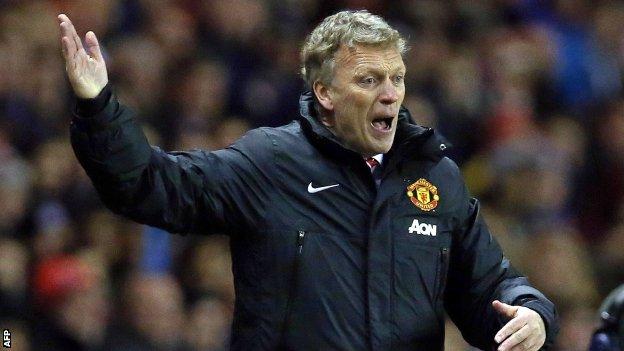 David Moyes says Manchester United are "beginning to laugh at referees" for their "terrible" decisions following a third successive loss.
Fabio Borini scored from the spot to give Sunderland a 2-1 win in the first leg of their Capital One Cup semi-final after Adam Johnson tumbled in the area.
The United manager, 50, said his team were "playing referees as well as the opposition".
"We're actually beginning to laugh at them, that's the thing", he said.
"It's really terrible, it really is. We're having to play them as well as the opposition at the moment."
Andre Marriner awarded the hosts a 64th-minute penalty on the advice of one of his assistants after Johnson had gone down under Tom Cleverley's challenge.
Earlier, Sunderland had taken a 45th-minute lead when Ryan Giggs scored an own goal before Nemanja Vidic's header levelled matters soon after the restart.
Borini's penalty gives the Black Cats the upper hand going into the second leg at Old Trafford on 22 January.
Earlier this month, Moyes said it was "scandalous" United were not awarded a late penalty in their Premier League defeat by Tottenham at Old Trafford.
"How could the linesman give that?" he complained following the latest defeat at the Stadium of Light.
"The ref was looking straight at it but the linesman would have to have seen straight through Patrice Evra to give it.
"We had a player booked the other day for a similar thing that they got a penalty for.
"The decision for the first goal, I don't see how it was a free-kick. That doesn't take away our poor defending from the free-kick, though."
Tuesday's defeat means United have lost three straight games for the first time since 2001, having been knocked out of the FA Cup by Swansea on Saturday following a 2-1 defeat by Spurs.
Moyes, who succeeded Sir Alex Ferguson in the summer, has also seen his side make a difficult start to the Premier League as they sit 11 points behind leaders Arsenal.
His predecessor sat alongside former midfielders Sir Bobby Charlton and Bryan Robson in the stands at the Stadium of Light on Tuesday night.
Asked if their presence was an added pressure, he said: "Not at all. Alex is a great sounding-board for me. He is there to help, so is Sir Bobby.
"He is terrific. Bryan Robson is at the training ground regularly, I speak to him regularly. I find the three of them terrific."
Despite the defeat, the former Everton manager still expects to win a place in the Capital One Cup final at Wembley.
"I'm actually really looking forward to this," he added, looking ahead to the second leg in a fortnight's time.
"More important is how good the Manchester United supporters were - how well they supported me and how well they supported the club.
"They realise we are having a difficult time right now and they are not used to this, but good supporters stick with their team, they stick with their manager."