Middlesbrough's Kei Kamara: War keeps injury in perspective
Last updated on .From the section Football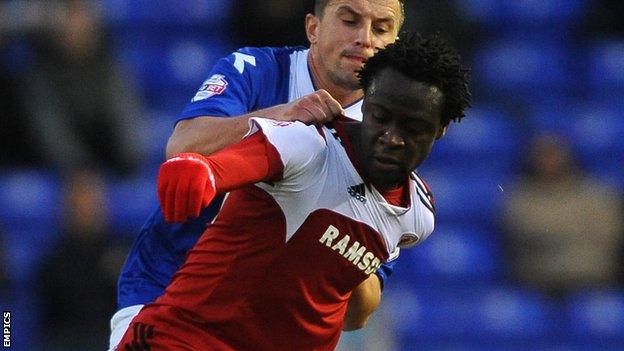 Middlesbrough forward Kei Kamara says a childhood blighted by war is enabling him to keep his injury problems in perspective.
As a six-year-old in his native Sierra Leone, Kamara and his family witnessed the onset of civil war, but eventually moved to the USA as refugees in 2000.
He in August, but has been out for over a month with knee trouble.
"I'm always happy, it's only an injury. When I was a child, I literally ran for my life when the war started," he said.
"I remember hearing an explosion when I was in class at school and just running as fast I could.
"When I was nearly home I realised I'd left my little brothers behind. I sprinted back but I still have nightmares that I know will never go away."
The 29-year-old has spent the majority of his career in his adopted homeland, latterly with Major League Soccer side San Jose Earthquakes.
He last January, but despite becoming a favourite among fans, prompting one to write a tribute song about him, Kamara failed to earn a permanent deal and moved to Teesside on August's transfer deadline day.
After scoring four times in his first seven Boro starts, he went six games without a goal before limping off during
"I'm always happy because I feel blessed to be a professional footballer," he told BBC Tees.
"I enjoy life, appreciate the little things and always think that it could be worse.
"Every day is a good day when you look at the bigger picture. My friend Stuart Holden [the Bolton midfielder] has had awful knee injuries, whereas I'll be back playing soon.
"Then there are still kids experiencing the same things I did as a child and that's a different world.
"Of course, I would not wish civil war on anyone but at the same time I would not change my childhood because it made me who I am."