Lionel Messi: Are Barcelona a better team without him?
By Andy West
European football writer
Last updated on .From the section European Football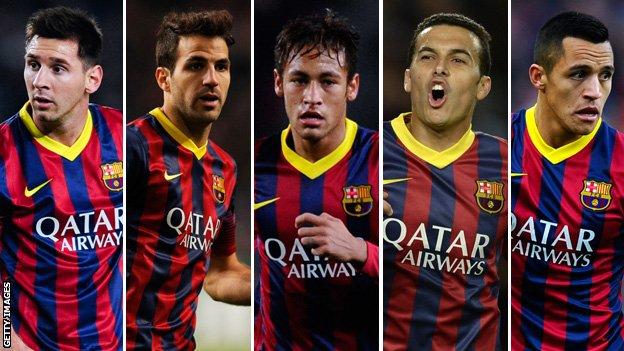 Barcelona manager Tata Martino faces a major selection dilemma as he prepares for Saturday's table-topping La Liga meeting with Atletico Madrid.
Don't feel too sorry for the Argentine boss, though, because Martino is contemplating the ultimate "nice problem to have" as he wrestles with the conundrum of how to accommodate fit-again compatriot Lionel Messi in his team.
Messi is just back from a hamstring injury, having made his return in spectacular fashion with a two-goal substitute's outing in Wednesday's 4-0 thrashing of Getafe in the Copa del Rey.
In one respect, Messi's comeback could hardly have come at a better time as his team travel to face an Atletico side trailing Barca at the top of La Liga on goal difference alone.
He is far from match-fit, however, and Martino will find it difficult to leave anyone out to make way for Messi because his other forwards are all in fabulous form.
Neymar scored six goals in a brilliant December, Pedro has registered eight in his last seven outings, Alexis Sanchez notched his first Barca hat-trick in Sunday's 4-0 win over Elche, and Cesc Fabregas has excelled in Messi's "false nine" role, registering eight goals and five assists during the Argentine's spell on the sidelines.
Indeed, although statistics can be misleading, Barca's figures so far this season point to an overwhelming conclusion that the team's attacking players are individually far less effective when they play alongside Messi than they are without him.
This is no real surprise because, over the last few years, the team's gameplan has understandably and unashamedly been geared towards getting the most out of Messi's unique talents, with the side-effect that other attacking players are granted fewer opportunities to shine.
With Messi alongside them, the primary role for Barca's wingers is to provide openings for their team-mate by passing the ball to him or occupying opposing defenders to create space. Attempting to score themselves is almost a last resort.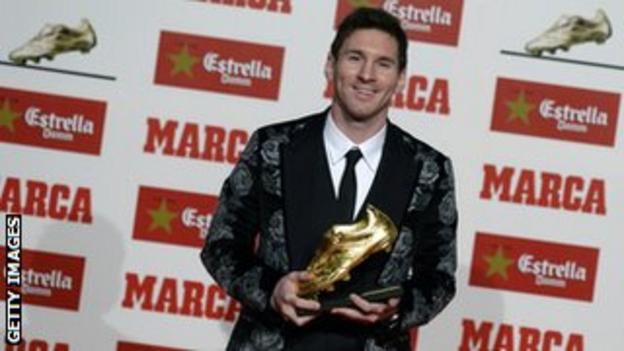 Considering Messi's phenomenal goalscoring record and the astonishing run of trophies the strategy has yielded, this approach can hardly be criticised. Since Pep Guardiola's appointment as coach in 2008 ushered in a new era of glory, Messi has scored 287 goals in 286 games, firing the team to four La Liga titles and two Champions League crowns. If Messi's prominence means the other players score fewer goals, it's a fair price to pay.
And with selfless, ego-free players like Pedro, who feels no need to bask in personal glory, there's no problem. Neymar, however, comes from a different mould, and he is arguably the man with the most to lose from Messi's return.
With his fellow South American back in the team, Neymar will be forced to revert to a secondary, subservient role rather than enjoying the freedom of being the team's main creative force and undisputed superstar, as he was during December.
This undeniably detracts from Neymar's overall effectiveness - to play at his best, the young Brazilian needs the freedom to express himself, take on defenders and go for goal rather than being burdened by the duty of looking for a pass to Messi.
Of course, none of this matters if the team is winning, and if Neymar, Pedro and co have to subdue their instincts to allow Messi to fire them towards trophies, so be it.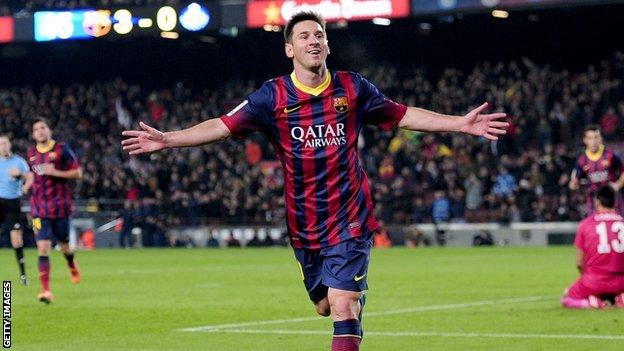 But there is a growing feeling that Barca are developing a more varied approach, making them less reliant upon Messi's genius and encouraging other players to come to the fore. Essentially, Martino believes his team's famed "tiki-taka" style of play has become too predictable, and he has introduced a number of tactical variations including more direct, long passes.
Indeed, the dilemma facing Martino for this particular meeting with Atletico can be seen as a microcosm of a significant longer-term riddle that Barca need to solve. Messi will, of course, continue to be their single-most important player, but perhaps he'll be a little less important than in the past.
In the immediate future, Martino has to answer a straightforward question: should Messi start against Atletico?
With just 30 minutes of competitive football under his belt in two months, there's a great deal of logic in restricting him to the bench.
Atletico's unforgiving back four, underpinned by on-loan Chelsea goalkeeper Thibaut Courtois, has been quite possibly the best defence in Europe over the last 12 months - they boasted easily the stingiest record in La Liga last season, conceding nine goals fewer than next-best Barca, and have kept four clean sheets in their last five league games.
Going up against Courtois and the fabulously consistent central defenders Diego Godin and Miranda is a daunting enough prospect for fully-fit players, never mind for a physically fragile performer just coming back from a fairly serious injury.
However, Martino has repeatedly stated his (hardly controversial) belief that Messi is the best player in the world and that his presence can only serve to improve the team; therefore, he will always select Messi when he is fit.
If manager, player and the club's medical staff are all convinced that his physical problems are behind him - and Wednesday's performance suggested he's well on the way - then writing the name "Lionel Messi" amongst the list of substitutes would be an almost unthinkable proposition for Martino, especially for such a big game.
If Messi does play, Martino will have to decide how, where and who else should be left out. With four other in-form forwards available (assuming Neymar recovers from illness), it's far from an easy decision and Martino will keep us guessing until the last minute.
Intriguingly, the Barca boss has already shown he's not afraid of experimenting. In his team's biggest game of the season to date - the Clasico meeting with Real Madrid in October - he removed Messi from his usual central role and repositioned him on the right wing, consequently giving Neymar the added freedom which allowed him to score the opener in a 2-1 win.
Don't be surprised if Martino has another surprise in store for Atletico on Saturday night.