Matt Bloomfield: Why stay at one club for 10 years?
By Matt Bloomfield
Wycombe Wanderers midfielder
Last updated on .From the section Wycombe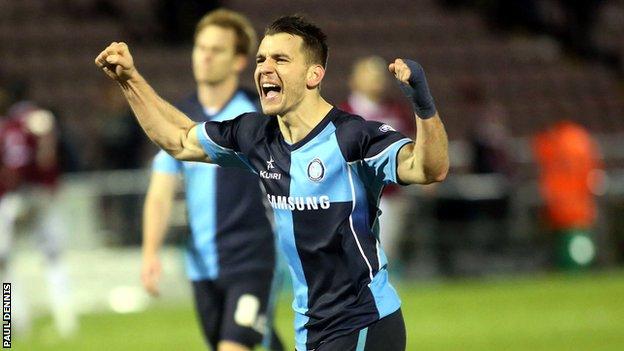 I have just celebrated spending 10 years at Wycombe Wanderers.
I'll be totally honest with you and say that I do not feel old enough to have spent 10 years at one club.
With my 30th birthday fast approaching next month it has also given me something of a mental barrier to overcome.
Ten years spent at one club is a very long time in football, but it has gone by in a flash.
I have seen so many changes in the structure and personnel within the club. I have also seen many, many faces come through the training ground gates.
I dare not think how many players I have seen come and go. Footballers often get a bad name but I have met so many good blokes and a lot of them are now friends.
Of course, I have also met some numpties, but they exist in any walk of life don't they?
To be granted a testimonial by the club is just fantastic and I am very grateful for that.
I never dreamt that when I signed as a 19-year-old that I would reach this milestone. The club has become very special to me and my family.
I have arranged an evening to share with our supporters at Adams Park, a golf day at a nearby club and a pre-season friendly against Premier League opposition.
I'm also extremely hopeful to soon be able to confirm a black-tie dinner in conjunction with a fantastic charity.
I have experienced huge highs at the club; reaching the League Cup semi-final and also getting promoted from League Two twice.
I have also experienced some cruel lows, getting relegated and spending a year out with a career threatening injury.
I love my job and feel so lucky to have spent so long at one club.
The best part about the job, though, is that there is always more to strive for and to try to achieve. Waking up with that motivation is what drives me on.
Even the job I love has its slight drawbacks. Leaving my wife at home on her own whilst we travelled to Exeter on New Year's Eve, only for the game to be called off the following morning, was slightly frustrating.
The rain was incessant and there was nothing the Exeter ground staff could have done to get the game on.
Our manager Gareth Ainsworth was not going to be put off though and he found us an extremely wet park near our hotel so we could train and make some good come out of the journey.
The lads had every piece of kit on possible to try and stay dry but that was not going to be possible.
We made the best of a bad situation and that's certainly a New Year's Day I won't forget for a while!