Sam Allardyce: West Ham boss in 'serious peril after pathetic loss'

By Phil McNulty
Chief football writer
Last updated on .From the section Football869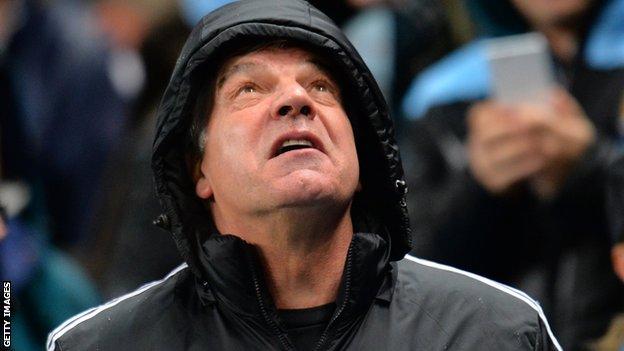 Sam Allardyce sat motionless in his seat for 39 painful minutes at The Etihad, shrouded in a black hood as protection from the rain but without any defence in every other aspect.
Manchester City were two goals ahead without breaking sweat and this Capital One Cup semi-final was already over the hills and far away from West Ham United when Allardyce finally rose to his feet and moved into his technical area.
The impact was instant - Yaya Toure moved at no great pace at a West Ham defence retreating so quickly they were threatening to join their supporters behind the goal before scoring City's third goal in almost apologetic fashion.
As moments of managerial inspiration go, Allardyce had delivered the reverse of The Midas Touch. The Minus Touch if you like.
It summed up Allardyce's current plight and was a moment that encapsulated a performance that can take its place with some ease among the worst in this fine club's recent history.
Manchester City went on to win 6-0. They are at Wembley, the second leg at Upton Park is an exercise in futility and West Ham and Allardyce produced a night that was an utter embarrassment for manager and club.
Allardyce rested players for Sunday's FA Cup third round tie at Nottingham Forest. West Ham lost 5-0 and this revamped, supposedly refreshed side actually managed to produce something even worse. So not exactly a cunning plan.
Indeed this was so poor, so devoid of any redeeming features, that it carried all the hallmarks of a manager in serious peril.
West Ham's co-owners David Sullivan and David Gold penned an open letter of public understanding for Allardyce and a show of concern for their supporters after Sunday. Sympathy for the manager was in short supply here.
Sullivan and Gold's letter must be taken in good faith. They have a track record of loyalty to managers and when they backed Allardyce be sure they meant it.
The big problem for Allardyce was that once Edin Dzeko made it 5-0 on the hour after Alvaro Negredo completed his hat-trick and Toure had scored, the atmosphere among West Ham's fans turned toxic.
Good humour and great patience finally snapped among fans who had every right to feel insulted by what they had been offered in exchange for a 400-mile round trip and an expensive night out in a Manchester downpour.
On the grounds of good taste, let's just say Allardyce was invited in the most colourful and abusive terms to leave West Ham United. Often.
"We Want Our West Ham Back" was another more printable chant, perhaps aimed more in the direction of a grim-faced Sullivan underneath his trademark Russian hat in The Etihad directors' box.
Some recalled the so-called "Valentine's Day Massacre" not so far away at Oldham Athletic in 1990, when West Ham were also thrashed 6-0 in a League Cup semi-final. That was bad - but it would have had to be very bad to be worse than this.
Sullivan and Gold may have given their support to Allardyce but mutiny was in the air among the supporters. When they turn against a manager to the extent that was seen and heard at The Etihad, it is fiendishly difficult to win them back - and the noises off were all very ominous for Allardyce's long-term prospects.
It is not stretching the point to record that 6-0 was ultimately a hugely flattering scoreline for West Ham. It was cruelly suggested by one observer that City could have removed all their players during the half-time interval and still won with something to spare.
The only serious moment of concern for City manager Manuel Pellegrini and his players came when West Ham appealed in vain for a corner in the second half.
If it was not for the fine performance of goalkeeper Adrian, whose efforts were rightly acknowledged by West Ham fans when he went to them at the final whistle, double figures would have easily achieved by a magnificent Manchester City side.

As Allardyce rightly pointed out, they are not the first team to be beaten out of sight at Manchester City this season and will not be the last. City's incredible record of 59 goals in 15 homes games tells you that. Their overall record of 92 goals in 31 matches adds emphasis.
He also had every right to be heard when he pointed out the loss of important defenders James Collins, James Tomkins and Winston Reid, although pleas on behalf of the absent Kevin Nolan and Andy Carroll should fall on deaf ears. One has developed a nasty habit of being sent off and the other is more of a rumour than an actual Premier League performer these days.
Allardyce made the expensive mistake of seemingly formulating his whole season's tactical approach around a £15m striker with a track record of injuries - who promptly picked up a serious injury. The eggs have fallen through this one, broken basket.
This is some of the case for Allardyce's defence and must be made. The prosecution, however has much weightier prime exhibits after these harrowing last four days and those thousands of fans whose spirit was finally broken returned their own very unflattering verdict.
West Ham, and this word is chosen carefully, were pathetic. Yes, there were some mitigating circumstances but nothing can cover up what was a shameful display.
It is quite an accusation to blame professional players for a lack of effort but it was clear pretty much every member of West Ham's team did not have the stomach for a fight here. And it was clear very early on.
Seasoned England internationals such as Joe Cole and Stewart Downing were here, 90 caps between them, but you would not have noticed. They barely touched the ball.
This was almost a non-contact night. No fight (barely a tackle was made) and no organisation, which is usually base camp for any Allardyce team. This did not look like a side determined to keep their manager in his job.
The only flash of aggression came when Mark Noble was replaced by Alou Diarra after 57 minutes and, disgruntled, decided to bandy words with City's fans who taunted him as he left the pitch.
Allardyce talked defiantly of fighting the good fight, getting up in the morning to get his players "heads up, shoulders back and chests out" ahead of a vital game at Cardiff City this weekend.
This will be of no consolation to the West Ham fans making their way back to east London as the rain still poured down.
Sullivan and Gold may still back their man but reality dictates that any more results like this will only ramp up the open discontent among supporters and increase the pressure on Allardyce.
He may, as per their open letter, be able to count on the support of his immediate superiors but the voices of a passionate support will also carry weight at West Ham - and Allardyce would have struggled to find any backing after his second complete embarrassment inside a week.