Morton boss Kenny Shiels stops interviews on medical advice
Last updated on .From the section Morton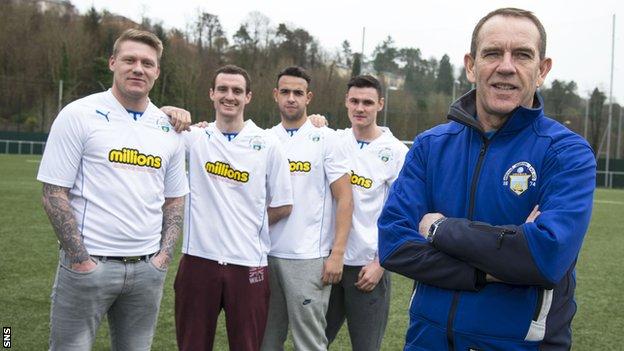 Morton boss Kenny Shiels has banned himself from giving match-day interviews on advice from his doctor.
The 57-year-old got into trouble with his receiving a number of bans from the Scottish Football Association.
Now he wants to avoid controversy after being told he can become "emotionally imbalanced" at key moments.
"It's important I don't compromise my position as manager of Morton Football Club," said the Northern Irishman.
"I don't want me to be the centre of attention, I want my players to be the centre of attention and my club."
Shiels said he has no problem talking to journalists in his day-to-day work but planned to leave the match-day media duties to assistant David Hopkin.
"Journalism in promoting the game is so important and the Scottish journalists are brilliant at it," said Shiels,
"Every decision I make must be in the best interests of Morton and I'm very susceptible to being 'controversialised'. It's happened to me in the past. I'm not going to go down that road anymore.
"Therefore, in the best interests of the club, I think it's better that David Hopkin does that on match days.
"David is very articulate and can put our point after the game."
Shiels said his doctor advised him that there is a medical condition for his passionate outbursts.
"If you feel hard done-by, you want to tell the truth about something that happened in the game," he said.
"There's a name for it. If someone asks you a question, you're emotionally imbalanced at that time and you feel an urge to tell the truth.
"You become a victim of that. There are people out there waiting for you to drop your guard."
He claimed Celtic boss Neil Lennon has a similar problem keeping his emotions in check.
"He will tell you he is the same, when you are passionate about something and you put all your energies into it," said Shiels.
He added that he was "probably not intelligent enough" to handle certain situations.
"Journalists can catch me," he said, but insisted he only had himself to blame, adding: "It's not their fault, it's my fault."
Morton have suffered since and are nine points adrift of Cowdenbeath at the foot of the Championship table.