Danny Higginbotham: Defender quits after losing love for playing
Last updated on .From the section Football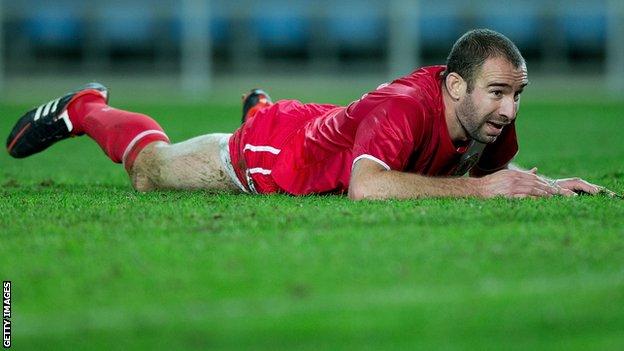 Former Stoke and Southampton defender Danny Higginbotham has retired after losing his love for playing the game.
The 35-year-old moved to Conference North side Altrincham from Chester at the beginning of the month to try and prolong his career.
"That was my intention but not the way it transpired," Higginbotham told BBC Radio Manchester.
"I had to face the fact that my time was done, my body felt OK but my heart wasn't in it anymore."
Higginbotham, who won an international cap for Gibraltar against Slovakia in November, played his final game in a 5-4 defeat by Gainsborough on Tuesday.
"Throughout my career, losing games has always bothered me," he said.
"After the game there was nothing there, I just wanted to get home.
"I always said Altrincham was the club I wanted to end my career at. But to play for another two months when my heart was not in it would not have been fair on anybody, especially my family."
Higginbotham began his career at Manchester United and went on to play for 10 other clubs, but described his time at Stoke as the "most enjoyable".
"Stoke is a working class area, that is how I was brought up and football means so much to them," said Higginbotham, who dropped into the Conference when he left Sheffield United in the summer.
"The thrill of the club being in the Premier League is something that will never be forgotten and the atmosphere in the stadiums was breathtaking."
He is now focusing on a media career in radio and television.
"As a footballer, you are very fortunate that it is what you do as a living," he added.
"I would never call it a job, but it was becoming more monotonous and a chore rather than a hobby.
"The buzz that I used to get from the football, is something that has taken over in my media work. It is something I have got real love for and something I can hopefully progress with."