Hearts: Administrator does not expect signing ban to be lifted
Last updated on .From the section Football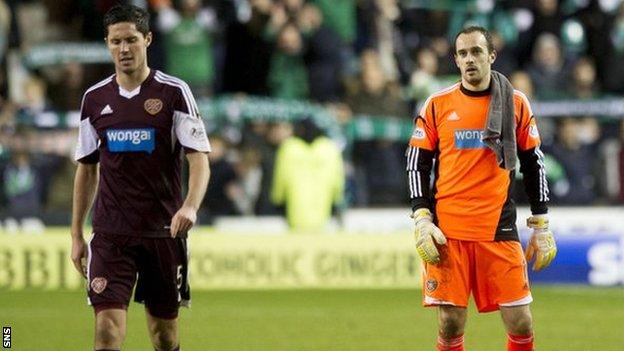 Hearts' attempts to have a transfer embargo relaxed or overturned are destined to fail.
Bryan Jackson, from the club's administrator BDO, has conceded there is only a slim chance of his request to the SPFL being successful.
He cited health and safety concerns over the players as part of his argument for the lifting of the embargo to be considered for a second time.
"I'm not over-confident that we'll get a result," Jackson told BBC Scotland.
The SPFL transfer ban is the result of a rule, rather than a decision, and is therefore not open to appeal.
"It's difficult for the footballing authorities," said Jackson. "Rules are rules; there's precedents and if you make one exception.
"I understand all of that and I also understand how it might be viewed by the other clubs.
"I just feel that I have to try because what makes the difference now is we can see the results of playing the young boys week after week and with injuries."
Jackson's previous talks with the Scottish Football Association failed to bear fruit, with the ban in place until Hearts come out of administration.
Hearts entered administration in June, with BDO reporting debts in excess of £28m.
Clubs in administration can make requests in exceptional circumstances to register players on a "one in, one out" basis.
But this could not happen in this case as there is a further embargo in place as part of an Scottish FA judicial panel sanction against Hearts, which runs until the end of January.
Manager Gary Locke, whose side are 19 points adrift at the foot of the table, says he is struggling to fill the bench for Premiership fixtures.
"You are worried about burnout, you want to give them a rest," said Locke.
Jackson stressed his support for Locke and vowed to repay the loyalty the manager had shown the club since they entered administration.
Locke wants to give some of his young squad a break but said he was unable to do so because of Hearts' fixture list.
"I am really concerned about it," said Locke. "I haven't hidden that fact and I have said it from day one.
"It is very difficult. I know a long hard season can take it out of you when you are an experienced player, but when you are a young player it is even worse.
"I had it myself when I came into the Hearts first team, which was full of international players, at 17.
"I hit the 20-game mark and then the manager took me out of the team because my form dipped and I needed a rest.
"Unfortunately, I can't do that with the majority of them."
Locke has struggled to name seven substitutes in some Premiership games this season and says there is "no chance" of filling the bench for Motherwell's visit to Tynecastle on Saturday.
Asked if there could come a time when he will be unable to name any substitutes at all, Locke said: "Possibly, possibly.
"At this time of the year, unfortunately, there are a lot of bugs going about and two or three of the players have been laid low, Callum Tapping being the new one this week.
"There might come a time when what will happen is that I will have to put a 16-year-old kid who has just left school on the bench, but what can you do?
"It is not getting any better. Danny Wilson was laid low with a tonsillitis bug, he has lost about seven pounds in weight, it has really taken its toll on him.
"Kevin McHattie is struggling with injury, Callum has a bug as well, so he is extremely doubtful for the weekend and the other boys who are injured are still out."