Tranmere's Joe Thompson 'feeling all right' after cancer treatment
Last updated on .From the section Football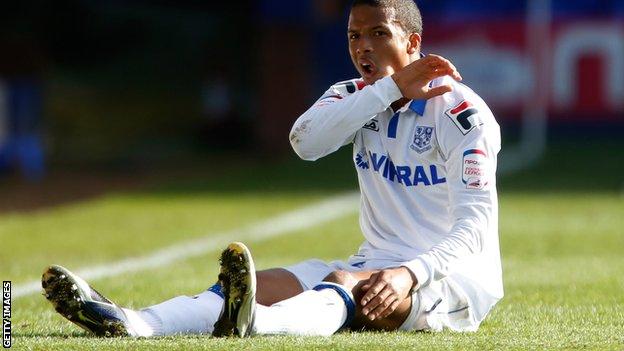 Tranmere midfielder Joe Thompson is feeling "all right" having completed three of his 12 chemotherapy sessions after being diagnosed with cancer.
"I am quite comfortable talking about it, I can't change the fact that I have it," he told BBC Radio Merseyside.
"Who would have thought I would have cancer at such a young age. If it can happen to me, it can happen to anyone."
Thompson, who was diagnosed in November, recalled the first time he felt unwell was before a game in August.
"I was quite ill before the Crewe game but I managed to get out on the field," he explained.
"Slowly, I started to deteriorate and was coming into training with hardly any energy and then the lump came up.
"I feel half the battle is in your mind. If you walk around with a grey cloud over your head, it's going to rain on you so you need to stay positive."
The Rochdale-born player began his career at his hometown club where he made over 100 appearances before signing for Rovers in 2012.
He has made eight appearances this season, and says he misses playing for Ronnie Moore's side.
"It puts everything into perspective but football is a massive part of my life," he added.
"Without my health, I can't do football so at this moment in time, football is secondary.
"The turn of the year was significant for me because there was a lot of games and I realised how much I was missing it."