World Cup 2022: Roberto Martinez opposes winter switch
Last updated on .From the section 2014 Fifa World Cup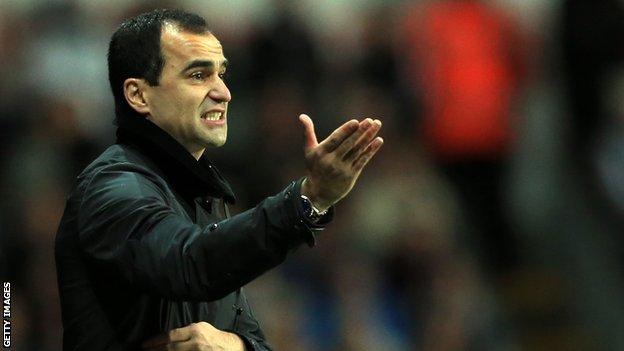 Everton boss Roberto Martinez claims players would find it difficult to cope with a winter World Cup in the middle of their domestic club season.
Governing body Fifa's secretary general Jerome Valcke hinted the 2022 event Qatar will be played between November and January due to the desert heat.
"I find it very difficult to find a way that would work," said Martinez.
Fifa insists no final decision has been made and a consultation process will take place.
Martinez revealed his concerns for a winter World Cup after experiencing issues with players leaving for the African Nations Cup in the middle of the season.
He added: "We had many problems with that because you're going in to a different climate, you come back from a different coach. It was difficult to find continuity in players' performances.
"I can't see how a player's mentality would be fine for going into a season, then starting the World Cup and then coming back and picking up where they left it. I find it very difficult to find a way that would work.
"It happens in some South American countries where you've got two parts of the season and the performances of the teams are very, very different. I can't see that working at all.
"I think that would affect the performances of the team and therefore affect the competition as a whole."
Valcke recently suggested on Radio France that the 2022 tournament could take place between 15 November and 15 January, which appeared to back up the views of Fifa president Sepp Blatter, who had said it would take place in November or December.
However, Fifa have confirmed that the dates are still subject to an ongoing consultation process which involves all main event stakeholders, including Fifa confederations, member associations, leagues, clubs, players - as well as Fifa's commercial partners.
The Qatar 2022 Supreme committee said they "will be ready to host the World Cup regardless of the outcome of the consultation."
Blatter said two months ago that a firm decision on dates for the 2022 World Cup will be made in December 2014.