Clarke's Dergview minnows take on mighty Linfield in cup
Last updated on .From the section Football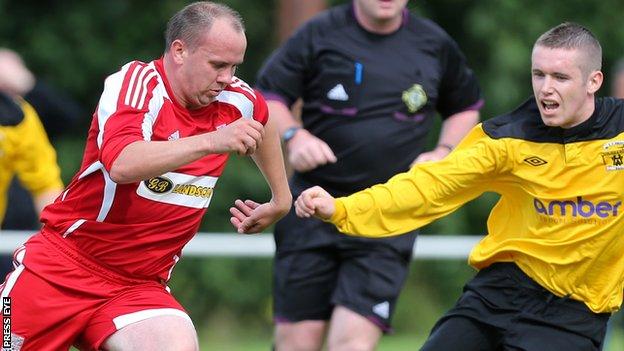 Former Irish League star Richard Clarke faces the biggest test of his fledgling managerial career in a real David versus Goliath cup clash on Saturday.
Clarke, a mainstay of top flight side Portadown's midfield for many seasons, took over as boss of Championship One club Dergview last summer.
And on Saturday his young team face Premiership leaders Linfield away in the fifth round of the Irish Cup.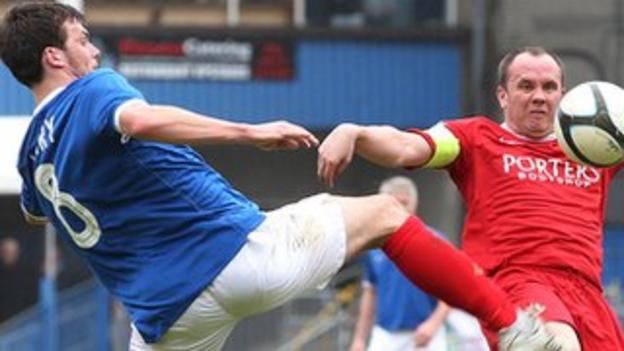 "It is a massive draw for a club of our size," said Clarke.
"Linfield are the biggest club in the country and we are a little provincial side.
"At training, the night before the draw, we joked about getting Linfield.
"It is a big thing for the club and hopefully we will make a few quid out of it.
"I would really like our young boys to go out at Windsor Park and dhow they are decent wee players, and not let the occasion pass them by.
"We have been working on defensive tactics in training because we expect to come under a fair bit of pressure.
"To be honest, we are just happy to be in this round."
Clarke's maiden year as a manager has been tough and the current priority is to steer the County Tyrone outfit clear of the relegation zone in Championship One.
Last weekend's important 2-1 success over Carrick Rangers was only their third league win of the season.
"It is a transitional time for us," said 34-year-old Clarke who remains a regular in midfield for the Darragh Park outfit.
"Because of finances, we lost a lot of players and have gone back to playing mostly local lads.
"We have had to scale back, but the boys who have stayed here have done very well."
Apart from Clarke, the only other Dergview man probably familiar with the Windsor stadium is Gareth Liggett who used to play for Ballinamallard United.
Front man Andy Sproule, though, will know all about one of the opposition line-up as his brother - former Northern Ireland winger Ivan - recently signed for Linfield.