Jonathan Obika: Striker eyes successful Brighton loan
Last updated on .From the section Football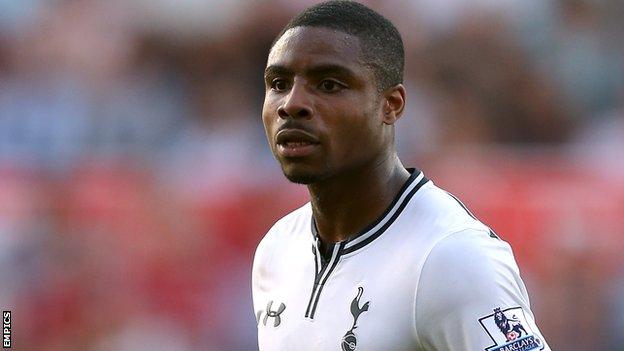 Jonathan Obika is aiming to impress at Brighton after joining the Championship club on a three-month loan deal.
The 23-year-old striker is starting his tenth loan spell away from Tottenham.
"There are a lot of factors when you go to different clubs. My last loan spell was at Charlton and I did very well there," he told BBC Sussex.
"Whenever I think about the future I always think you have to get the present right. I'll make sure I do well here and we'll see what happens."
Obika made his debut for Spurs in November 2008 but has only made four appearances for the Premier League club.
He has had four separate loan spells at Yeovil and has also spent time at Millwall, Crystal Palace, Peterborough United, Swindon Town and Charlton Athletic.
The former England Under-20 international scored three goals in 10 appearances for the Addicks last season.
"Going from Spurs, my first loan spell was at Yeovil which was a culture shock," Obika said.
"Loan spells makes you mature quicker and you develop and grow as a person and a player.
"Nathan [Jones, Albion assistant coach] was there when I had my first spell at Yeovil. He has been a big part of my career so far; in my confidence and I really enjoy the work he does on the field.
"Everywhere you go is an experience and I am here to hit the ground running. The aim for me is to help the team in pushing on."
Obika was sidelined by an ankle injury last year but scored six goals in an Under-21 match between Spurs and Charlton earlier this week.
"I've been back for three and a half weeks now and played two games," he said. "I've been firing and I'm happy I'm back playing again.
"It's been an explosive start to the New Year. I'm just looking forward to pulling on the shirt."