Arsene Wenger considers Theo Walcott replacement at Arsenal
Last updated on .From the section Arsenal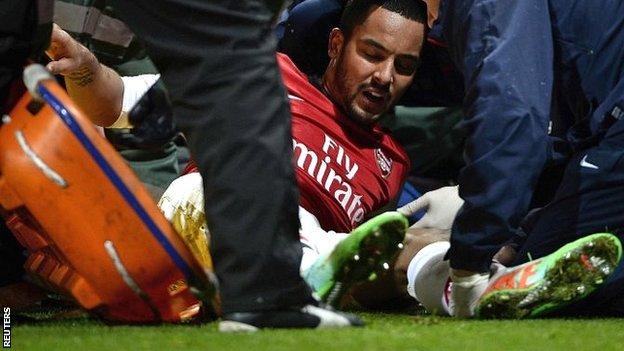 Theo Walcott's six-month injury lay-off has increased the likelihood of Arsenal signing a forward in January, according to manager Arsene Wenger.
"It has accelerated speculation first and of course my desire as well," said Wenger of Walcott's injury.
"Up front we lose Theo as a potential central forward and that's maybe where we have to look outside."
Arsenal have been linked with January moves for Porto's Jackson Martinez and Real Madrid's Alvaro Morata.
The Gunners are short of options up front - the unwell Olivier Giroud missed and Nicklas Bendtner is out with an ankle injury.
Wenger is confident that Walcott will return to full fitness next season but admitted he is looking at other attacking options in the meantime.
"Theo is handling it as well as you can when you have had such a shock because he's mentally strong," added Wenger. "He's very balanced as a person and he can put it into perspective.
"We know that he will have the dedication and the serious attitude to come back as strong as ever.
"We have Alex Oxlade-Chamberlain back and we have many other players who can play on the flanks, so to find better solutions than we have internally will not be easy.
"We are there for the opportunities but it's very difficult at the moment."