Ex-England striker Gary Lineker bemused by events at Cardiff City
Last updated on .From the section Football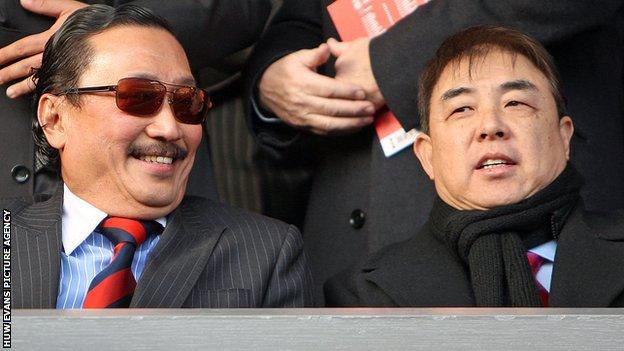 Ex-England striker Gary Lineker has said recent events at Cardiff City have left him bemused at times.
Lineker describes recent events at the club as a "shambles", but says it was important to recognise owner Vincent Tan's investment.
"It's been a bit of a shambles and it's a shame because Cardiff started the season pretty well," he said.
"He's [Tan] obviously invested a lot of money in Cardiff and I think it's important to remember that.
"But at the same time, coming with that [there have been] one or two wacky decisions along the way.
"I don't think it's done them any favours and put them under an extraordinary amount of pressure."
Tan, who changed Cardiff's colours from blue to red, had told Mackay to resign or he would be sacked before he was eventually dismissed on 27 December.
Former Manchester United striker Solskjaer was appointed Mackay's successor and Lineker hopes the Norwegian will be allowed to work without interference from the club's main backer.
"What's gone on is a bit bemusing," Match of the Day presenter Lineker told BBC Radio Wales Sport.
"But hopefully he'll [Tan] start to get it and he'll feel a bit more about football and he'll give Solskjaer a decent crack of the whip and not interfere too much and they'll be ok.
"But it's going to be difficult for them for the rest of the season."
Cardiff won 2-1 at Newcastle United in the FA Cup third round last Saturday in Solskjaer's first game in charge.
West Ham, second from bottom of the Premier League, will be the opponents for Solskjaer's first game at the Cardiff City Stadium on Saturday.
Sam Allardyce's side go into the game on the back of heavy cup defeats to Nottingham Forest and Manchester City.
Cardiff are currently one point clear of the relegation zone and Lineker says Saturday's match will be a huge game for both sides.
"It's not make or break but these games are huge," Lineker added.
"You've got to beat the teams that are around you - and you especially have to beat them at home."
Lineker says the Hammers' confidence is questionable after conceding 11 goals in two games, leaving them with "an awful lot to do".
"It will be a good time to play West Ham, I would say," said Lineker.
"They will be going to Cardiff - difficult place to play at the best of times - with very little confidence."