Pepe Mel: West Brom's new boss could prove a popular appointment
By Andy West
European football writer
Last updated on .From the section West Brom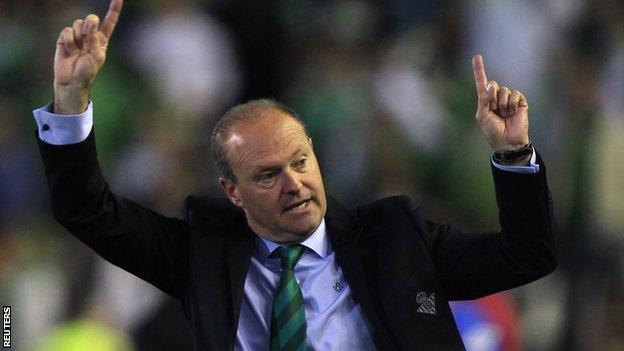 If fans of his former club Real Betis are anything to go by, West Brom supporters will very quickly develop a great fondness for their new head coach Pepe Mel.
Even though Betis were marooned at the bottom of La Liga, December's decision to sack him was far from unanimously applauded by the Seville-based club's followers, a significant number of whom - probably the majority - believed that factors other than the manager were responsible for the team's demise and argued that retaining Mel represented their best chance of survival.
Indeed, that argument appears to have been well-founded: in the three league games since his sacking, Betis have collected just one point, scored only one goal and they remain bottom of the table.
Mel was such a popular figure with Betis fans - and well admired by neutrals all over Spain - for three reasons: his appealing personality, his attacking and attractive brand of football, and the success he achieved despite working on a shoestring budget.
Having been sacked by previous club Rayo Vallecano despite earlier leading them to promotion, Mel arrived at Betis - one of his former playing teams - when they were in the Segunda Division in the summer of 2010.
They promptly won promotion at the first time of asking, cruising to the top flight as champions with the best goalscoring record in the division, and they also made national headlines by memorably beating Barcelona 3-1 in a Copa del Rey tie (although they still went out on aggregate).
The following season, 2011-12, Betis avoided relegation with a fair degree of comfort in their first top-flight campaign under Mel; but it was last year that they really captured the imagination, embarking upon an adventurous, hugely enjoyable season which included victories over high-fliers Real Madrid, Real Sociedad, Valencia and Malaga and culminated in a seventh-place finish.
Mel had exceeded all expectations and delivered Europa League football to the vast Estadio Benito Villamarin, earning a new contract as a reward.
But the club's ongoing financial problems forced them to part ways with a devastating chunk of the squad during the summer, including highly influential central midfield pair Benat, who joined Athletic Bilbao, and Jose Canas, now with Swansea.
Despite the upheaval, there were few signs of the trouble that lay ahead when Betis started the new season with an excellent performance against Real Madrid at the Bernabeu, taking the lead before eventually suffering an undeserved 2-1 defeat to a late winner from Isco.
Soon, though, the raft of summer departures, an ever-lengthening injury list which included prolific striker Ruben Castro, and the strenuous physical demands of competing in the Europa League started to take their toll.
Betis' form slumped and Mel was clearly in big trouble after his team suffered a 4-0 local derby thrashing at bitter local rivals Sevilla. When the following game saw Rayo Vallecano snatch a 2-2 draw with an injury time leveller, Mel was shown the door, exiting his much-loved Verdiblancos (Green and Whites) after holding a tearful farewell press conference.
And they were certainly not crocodile tears. Mel is a passionate, intense character who conducts himself with fierce honesty and integrity, rarely making excuses for poor performances.
Those qualities were highly evident in October, when a group of hardcore Betis 'Ultras' were so incensed by the team's display in a 5-0 defeat at Atletico Madrid, a few days later they invaded the club's training ground to remonstrate with the players and coaches.
Rather than hiding behind security guards or scurrying to the changing rooms, however, Mel stood his ground, approached the disgruntled fans and spoke to them personally for several minutes, conducting a forceful but mutually respectful exchange of views.
A few weeks later, those same supporters were bidding a reluctant goodbye to the manager who had transformed their club from Segunda Division promotion hopefuls into Europa League contestants, providing attacking, entertaining football and an honest, committed approach along the way.
Mel, however, had already been looking to his future. He has held a long-cherished wish to work in the Premier League, and he has been taking English lessons for several months in preparation for his much-desired move to Europe's most powerful domestic competition.
His opportunity to put those lessons into practice has perhaps come sooner than he anticipated; West Brom fans may well end up being very grateful.