Sam Allardyce right man for West Ham - Jason Roberts
By Alistair Magowan
BBC Sport
Last updated on .From the section West Ham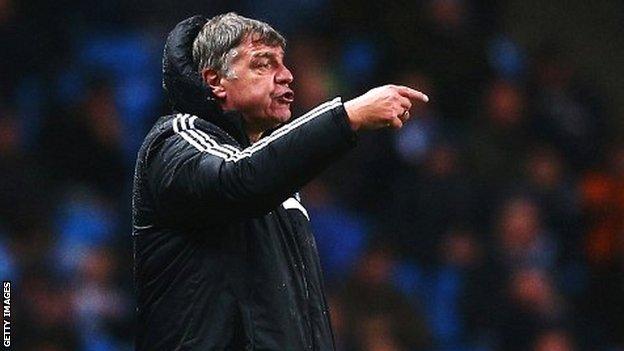 West Ham manager Sam Allardyce can lead the Hammers out of relegation trouble, according to Reading striker Jason Roberts.
Roberts played under Allardyce during the manager's two years at Blackburn between 2008 and 2010.
West Ham are second from bottom in the Premier League ahead of a trip to 17th-placed Cardiff on Saturday.
"If the board and the fans stay supportive, I think he will turn it around," Roberts told BBC Sport.
"If West Ham had another manager and found themselves in this situation, people would say you need an Allardyce-type manager to come in.
"Some people might say that he has got them into this position but I would point them to the injuries he has had defensively and with Andy Carroll."
West Ham have won only one of their last 10 games and suffered a 5-0 thrashing in the FA Cup by Nottingham Forest last Sunday and were thumped 6-0 by Manchester City in the Capital One Cup last Wednesday.
Allardyce, 59, was targeted by furious Hammers fans during the defeat at the Etihad Stadium, but he still retains the support of co-owners David Gold and David Sullivan.
The former Blackburn boss arrived at Ewood Park in similar circumstances in 2008 after replacing sacked manager Paul Ince.
Rovers were second from bottom of the Premier League and Roberts said he had a huge impact before they finished 15th that season, seven points above the relegation zone.
"One of the main things he does when things are tough is to try and simplify things," said Roberts, who spent six seasons at Blackburn between 2006 and 2012. "Football can be a simple game and Sam Allardyce has a really good way of simplifying it the eighth degree.
"Put the ball forward, win second balls, win free-kicks, get the ball in the box, put the opposition under pressure, I think that's what the games will be focused on.
"He will also try and take the pressure off the players; he is very much into the scientific side of the game but he is also into the psychological side so he will try and relax the players, try and bring it down to the fact that is just a football match, and try to gain some camaraderie among them.
"He may have a strong word for one or two that need it, but mainly make sure they are focused on the fact it is all about the 90 minutes and they can make a difference."
Roberts believes that the manner of defeat by City was uncharacteristic for Allardyce, whose sides are usually associated with a strong defence, but pointed to injured defenders James Collins and Winston Reid who will miss Saturday's trip to Cardiff.
He also highlighted how West Ham have missed Carroll as a "focal point for their attack" and who could return on Saturday after a foot injury.
But Roberts, who scored 28 goals for Rovers in 156 appearances, also revealed the motivating techniques Allardyce might use during a tough spell.
"He understands that to be an effective manager, you need to make an impact on the players," injured forward Roberts added. "What he would do is not be around for a few days and then turn up and make an impact around the place because the manager is in the building. When you didn't see the manager for a few days and then he turned up really motivated and shouting the odds, it gives people an edge.
"He also had the mentality that when things were going well, work was the best place in the world. It was very relaxed, days off for some of the guys, getting together with days out and the like.
"When things weren't going well that's when it was a hard place to be. Fingers would be pointed, points would be made and he has a lot of statistics to say whether [or not] you're not doing your job."
Roberts added: "He once got us in to watch a video of one of our poorer performances at 6am in the morning."