Bristol City: Owner Steve Lansdown clears £35m of club debt
Last updated on .From the section Football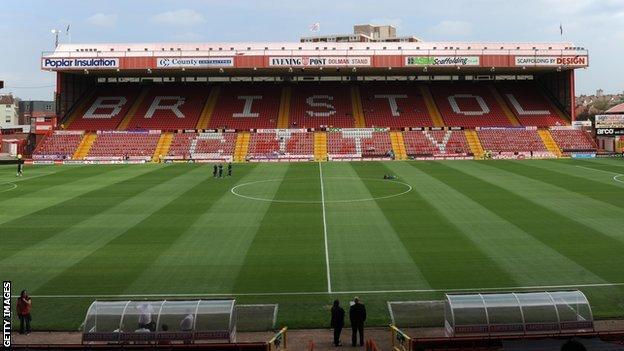 Bristol City owner Steve Lansdown has cleared £35m of the club's debt.
He reduced the Robins' net debt to around £23m - despite losses of nearly £13m in the last financial year - by restructuring part of his investment from loans to shares.
Remaining debts are interest free with no repayment date set.
The then Championship club made a record loss of £14.4m for the year ending May 2012 and have since been relegated to League One.
Turnover has dropped from £11.8m to £9.9m, with staff costs also falling from £18.6m to £16.8m.
There was also heavy investment in the academy resulting in the programme being granted Category Two status.
After reporting club record losses in 2012, City bosses admitted they needed to sort out their finances.
"Actions speak louder than words and, after completing this transaction, the football club has cut its total debts by nearly 65% and what remains is at no ongoing cost to the club," City chief executive Doug Harman said in a club statement.
The club statement also confirmed that future funds required by the Robins would be introduced as equity rather than amassed as further debt.
"The club continues to make significant progress in reducing its annual losses and reshaping the way in which it does business, while seeking to ensure it remains competitive on the pitch," added Harman.
"This is a difficult balancing act, but is crucial to the long term sustainability of the club.
"Relegation from the Championship, coupled with long-term player contracts meant the club could not achieve its target of £10m losses; however EBITDA (earnings before interest, taxes, depreciation and amortization) did drop to £10.9m."