Malawi clubs appeal against bans for fan violence
By Frank Kandu
BBC Sport, Blantyre
Last updated on .From the section Football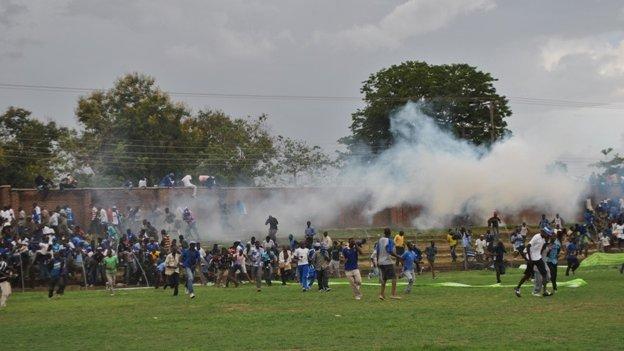 Malawi clubs Silver Strikers and Mighty Wanderers have appealed against their bans which followed the crowd violence at their league match on 28 December.
In addition Strikers were fined $6640.00, while Mighty Wanderers were slapped with a $1620.00.
The two sides had said they would not appeal to the Super League governing body and instead complained to the Football Association of Malawi (FAM) asking the association to intervene as they described the punishment as "harsh and unreasonable".
The clubs were also unhappy at being told they must pay $1046 to Sulom within 48 hours of the ruling to be able to appeal.
However, FAM referred Strikers and Wanderers back to Sulom saying the two sides had not exhausted the current existing structures within the league's administrative organisation.
Silver Chairman Dr McDonald Mwale said they decided to appeal to Sulom after the governing body halved the fee payable and opened a new 72-hour window for submission.
"We feel that with the reduction of appeal fees, Sulom have shown their willingness to hear us. We had earlier gone directly to FAM because we felt the appeal fee was meant to stop us form appealing," he said.
"We are of the opinion that Silver did not cause the violence as Sulom stipulates. We have evidence which we will tender to the appeals committee to prove we are victims of the whole violence saga."
However Mighty Wanderers are alleging that Strikers - and even league organisers - are to blame for the violence that led to the death of one fan.
Wanders General Secretary said in an interview that organisers were wrong to schedule the match of such magnitude at a small stadium.
"We are the victims and even lost our fan in the fracas. How then should we be punished instead of being compensated?" he said.
Sulom General Secretary Williams Banda said his body is yet to set a date for the appeal because although the teams have met the 72-hour deadline, they have not paid the appeal fee.
"For the sake of football we will see what to do but the teams have to pay the fee as it facilitates the process," Banda said.