St Mirren's Paul McGowan 'a fortunate chap' to avoid prison
Last updated on .From the section Football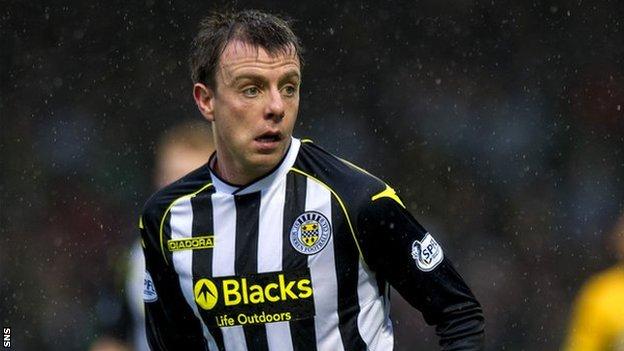 Paul McGowan was lucky to be spared a jail sentence after an alcohol-fuelled assault on two police officers, says St Mirren manager Danny Lennon.
The 26-year-old midfielder was on Wednesday.
"There is no doubt about it, Paul was a very fortunate chap," said Lennon.
"It's a hard punishment he has been given though and, by God, he will work hard on that."
Lennon said the Scottish Premiership club would make sure McGowan "sticks with it".
"He's a St Mirren football player and with this all now behind him, we're looking to get the best out of him every week," he said.
Sheriff Frank Pieri warned the former Celtic youth that the punishment was a "direct alternative" to custody and told him to behave in future or face prison.
McGowan is in the Saints squad for the trip to Perth to face St Johnstone and the Buddies boss is eager to see the midfielder get back to his best.
"It's a big weight off his shoulders," said Lennon. "Anything like that hanging over you, regardless what you do, is going to have a bearing on you.
"He's a loveable wee guy is Paul and I'm delighted this is all behind him.
"We will help him in his recovery and he knows he has done wrong.
"The most important thing is that we help him along with his correction and that Paul gives a little back to the community for the right reasons. He needs to become a role model that youngsters will look up to.
"We have all made mistakes in our lives but we are one big family here at this club and like any family, if someone is in trouble, you stick by them."