Ole Gunnar Solskjaer plans more Cardiff City signings
Last updated on .From the section Football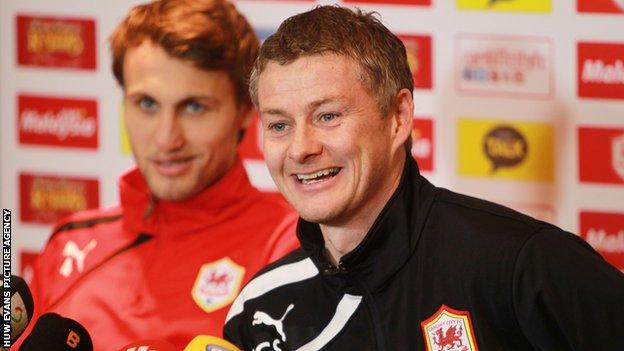 Cardiff City manager Ole Gunnar Solskjaer hopes to sign "one or two" more players in the January transfer window.
The Bluebirds have inquired about Hannover 96's and have been linked to Molde's 18-year-old midfielder Mats Moller Daehli.
"If we get one or two in, great," said Solskjaer.
Cardiff have been linked with several players since Solskjaer took charge of the Bluebirds, but the former Manchester United striker would not be drawn on who he is hoping to sign, although he said has been happy with the quality of players Cardiff have been connected with.
"I think all the names that have popped up with us have all been good players," said Solskjaer.
"I've had so many agents and players themselves I've known from before, texting me: 'Would you be interested?'
"So let's see what I can do.
"If not, we work with the ones we have because the attitude and the foundation is here."
Norway international Eikrem, who played under Solskjaer at Manchester United reserves and at Molde, is in contention to feature for Cardiff against West Ham on Saturday.
He says joining City was an "easy decision" and the players have helped him settle.
"It was a no brainer really," said Eikrem.
"They've been taking good care of me.
"Training sessions have been very good and it's really a step up for me."
Solskjaer led the Bluebirds to victory in his first game in charge in the FA Cup at Newcastle.
His first Premier League and home match as Cardiff manager against West Ham is a key fixture for both sides.
The Bluebirds are one place and one point above the relegation zone, three points above 19th-placed West Ham, who have conceded 11 goals in their last two games in the FA Cup and Capital One Cup.
Despite the fixture's importance Solskjaer says it is not a must win game.
"It's never a 'must win' game at this part of the season," said Solskjaer.
"If we can get something like the Sunderland performance [2-2 in the Premier League on 28 December], we will get a result.
"We've got to develop one step at a time now and get the performance and get the team playing like we do."