Nicolas Anelka: FA investigation into gesture continues
Last updated on .From the section West Brom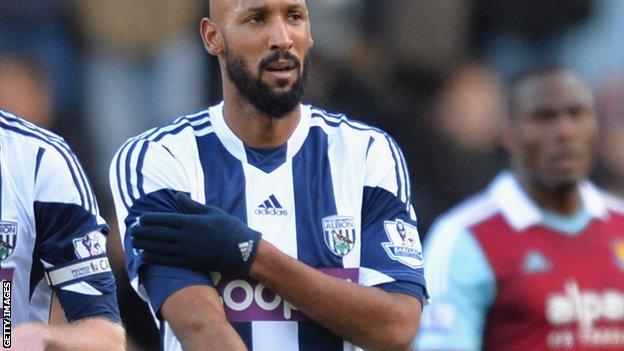 The Football Association's investigation into West Brom's Nicolas Anelka's "quenelle" gesture is ongoing.
The body has appointed an expert to help them look at the sign - described as an inverted Nazi salute - made by Anelka, 34, after scoring in the 3-3 draw with West Ham.
Frenchman Anelka has promised not to repeat the gesture.
The FA is not expecting to make further announcements on the investigation until 20 January.
The governing body says it has brought in an "expert regarding the salient issues related to the 'quenelle' gesture".
The French government is trying to ban comedian Dieudonne M'bala M'bala's shows over his use of the gesture and Anelka confirmed on Twitter he did it in support of the performer.
France's sports minister accused Anelka of a "disgusting anti-Semitic" gesture at the time.
But West Brom instructed Anelka not to use the gesture again after acknowledging "the goal celebration has caused offence in some quarters".