Wrexham boss Morrell says Brett Ormerod red card 'indefensible'
Last updated on .From the section Football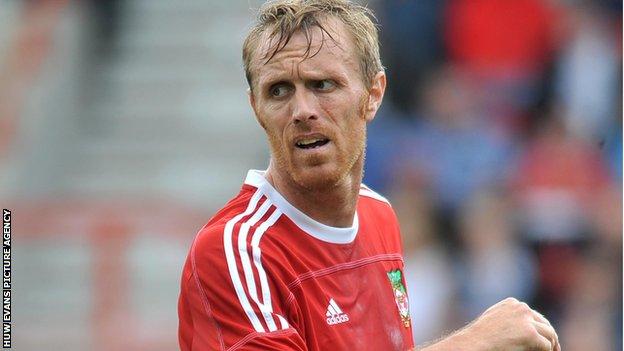 Manager Andy Morrell says veteran striker Brett Ormerod's red car in Wrexham's draw with Halifax was unforgivable.
Ormerod, 37, was sent off for fighting just before half-time in the 0-0 draw at the Racecourse Ground on Saturday.
Rreferee Martin Coy showed him a red card and Morrell believes his striker's actions cost his side points.
"For Brett, who has played 500 or 600 games, to do what he has done is indefensible," said Morrell.
"People are coming at me about our discipline and I can see why they do.
"I have said to him that he has let his team-mates down, the fans down, and the staff down.
"More importantly, he has let himself down because we are not going to win games with 10 men.
"He says he got elbowed, so what!
"If you have got elbowed, stay down and don't kick out. What's the point?
"It is just a ridiculous, petulant thing to do and I cannot defend him.
"But now he is going to be missing for a game or two now. He loses his spot and he has to work hard to get it back."
Morrell is the seventh Wrexham player to be sent off this season and the Dragons had three players yellow-carded by official Coy against Halifax.
The Wrexham boss also revealed that Ormerod would be fined for his red card and that he was contemplating increasing the fines for indiscipline for his players.
"I wouldn't condone it from a 19 or 20-year-old because it is petulance," said Morrell.
"Jay Harris has been sent off this year for the same thing, kicking out, and you cannot do it
"It is as simple as that. I will take money off them and I will keep taking money off them because they get fined for stuff like that.
"I don't know when the penny will drop but maybe I have to triple the fines or quadruple the fines.
"It is certainly costing us points, no doubt about it."