Inverness CT: John Hughes hopes for more 'rub of the green'
Last updated on .From the section Football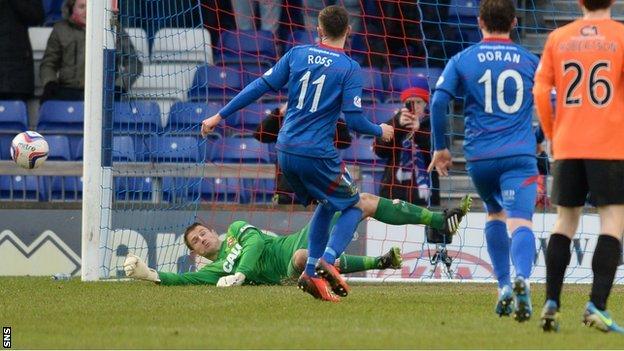 John Hughes believes Inverness will get back to winning ways when luck starts going their way.
"We're just not getting that rub of the green," Hughes told BBC Radio Scotland. "I think that was on show today.
"Ever since I've come to the club, even in defeat, the boys have been playing very well. The boys got good passing sequences and good ball retention."
Billy McKay's 18th goal of the season put Caley Thistle ahead after five minutes but that was quickly cancelled out by Keith Watson's header for United.
Inverness have won once in John Hughes' six matches in charge.
"What my disappointment is, I felt we could've held onto the lead a bit more," he said. "I think it was five or six minutes after we scored.
"The game went end to end and I felt it was a good advert for Scottish football.
"We missed the best chance of the match, in terms of the penalty kick.
"That's my other disappointment, Nick's been an absolute gem since I've come to the club. He's a right good footballer - it was him that slotted Shinnie in for the penalty.
"If anybody needed a goal it was Nick, but he's just going to have to take it on the chin."
Amid the celebrations for McKay's goal, Hughes bumped his head on the dug-out and needed medical treatment for a cut at half-time.
"I was going to tell you I cut myself shaving," he laughed.
"Schoolboy error, I actually got up and bumped it on the dug-out - absolute nightmare. When I turned around I saw the rest of the substitutes having a wee giggle, so they're in for extra training tomorrow!"