World Cup 2014: The men South American coaches dread losing
By Tim Vickery
South American football writer
Last updated on .From the section Football158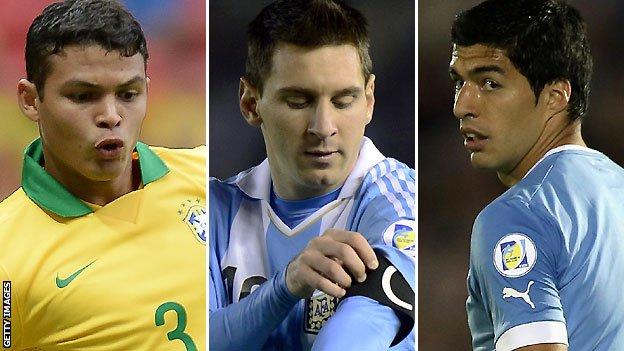 Theo Walcott, regrettably, will not be the last. More players will surely sustain injuries sufficiently serious to rule them out of the World Cup.
It is a cruel blow for them. And every tackle key players are involved in has the potential to deliver a cruel blow to their national coaches. Those taking a team to this summer's tournament will spend the next six months in a prolonged state of anxiety, fearing the worst every weekend.
From a South American point of view, then, which players would the World Cup coaches be most disappointed to lose?
There can only be one starting point - Lionel Messi. His recent run of injuries have sent a shudder down Argentine backbones - but at least coach Alejandro Sabella has been able to use Messi's absences to prepare a plan should disaster strike once more.
Sabella has got the best out of Messi by opening up the pitch for him, playing his captain behind two strikers thrown wide to give Messi as much space as possible. And with Angel Di Maria behind him as part of a midfield trio, the balance of the team is tipped firmly towards attack.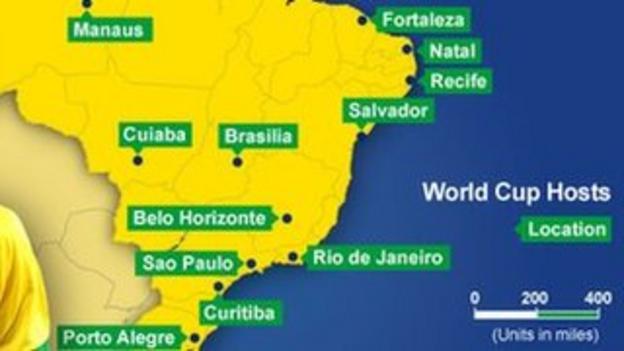 Sabella acknowledges the formation leaves his defence vulnerable, especially down the flanks. But he reasons that in an open game, Argentina's firepower will come out on top.
Without Messi, the equation is different. It is not so clear that running such risks is in the team's best interests. The little number 10 only started one of his country's final five qualifiers (missing two and coming off the bench in two more), and sat out the past three friendlies.
One of Sabella's adjustments was a switch to a more conventional 4-4-2. The best, though, was the 3-5-2 used last November in a friendly against Bosnia, by coincidence Argentina's opening World Cup opponents.
Against a tricky opposing strikeforce, Argentina displayed such defensive solidity that this formation should be the most likely approach if Messi is struck down before 15 June.
Uruguay's principal asset is similarly predictable. Coach Oscar Washington Tabarez will be praying for the continued form and fitness of Luis Suarez, who since the last World Cup has developed from fiery apprentice to sorcerer in chief.
Uruguay's is an ageing side, who will protect a lack of pace defensively by sitting deep and slipping Suarez on the break. His absence would mean a promotion from the bench for Diego Forlan - not a bad man to have in reserve.
Indeed the last time Suarez was missing, Forlan and Edinson Cavani combined to secure a 1-0 win in a crunch game in Venezuela.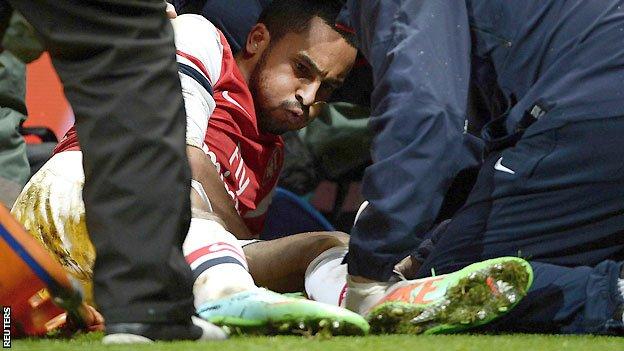 Yet again, when it really counted, the Uruguayans were able to dig deep. But the other qualifier Suarez missed perhaps gives a truer picture of his importance - a 4-0 defeat in Colombia. And if the team are going to make a serious challenge, it is impossible to see it happening without Suarez at his most inspired.
Colombia, too, have a wonderful attacking talent in centre-forward Radamel Falcao Garcia. But here the situation is not so clear - for two reasons.
Coach Jose Pekerman can count on some interesting alternatives - Jackson Martinez and Carlos Bacca, for example. And he would probably prefer a five-man midfield, giving width, passing skills and defensive solidity. But Falcao's lack of talent for linking the play usually necessitates the inclusion of another striker.
The centre-forward, then, can be replaced. Who cannot? One might have thought the most indispensable player was goalkeeper David Ospina, ever-present during qualification.
But 42-year-old reserve Faryd Mondragon kept clean sheets in recent friendlies away to Belgium and Holland. Perhaps, then, the answer is James Rodriguez, the left-footed attacking midfielder with the quality to open up defences in the final third. Roving left-back Pablo Armero, too, is not an easy man to replace.
The two star men in the highly promising Chile side are Juventus midfielder Arturo Vidal and Barcelona winger Alexis Sanchez. Coach Jorge Sampaoli would be loath to lose them, but Chile can play in their absence - both were missing from the 2-0 win over Uruguay.
One player Sampaoli might find harder to replace is central midfielder Marcelo Diaz, of Basel in Switzerland. Diaz was the brains of the Universidad de Chile side with which Sampaoli made his name. He has an excellent range of passing, and understands the coach's philosophy inside out.
He is Sampaoli's representative on the pitch. When he limped off in the early stages of November's friendly against Brazil, it was noticeable that Chile did not find their customary fluency.
Ecuador's big name is Luis Antonio Valencia, who outstrips defences down the right - while Jefferson Montero jinks through them on the left. Either would be a massive loss - but Ecuador have plenty of options in the wide attacking positions.
Centre-forward is more problematic. Felipe Caicedo's international recall has been a success. In the three qualifiers he missed, the team managed just one goal. He has no top-class reserve.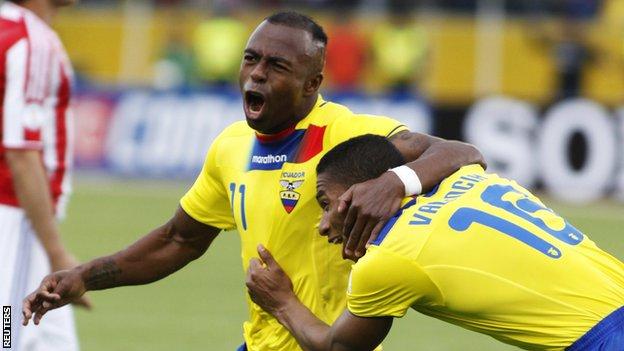 The truth, though, is that coach Reinaldo Rueda is already wrestling with the difficulty of replacing a player he did not want to lose. The tragic death of Christian Benitez robbed him not only of a hugely popular figure.
It also removed the player with the versatility to balance out the side. His pace made him a threat in front of the centre-forward, and he could also drop back and help out with the marking. It is still not clear how Ecuador will get by without him.
Brazil, meanwhile, may look a little light at centre-forward. But they have so many options to fill the slots behind, they could play with a 'false nine' (an experiment tried out with success against Chile). Even Neymar could be replaced.
Thiago Silva, though, is a different matter. With two attack-minded full-backs, plus the forward runs of David Luiz, a centre-back of class and composure is badly needed to hold the defensive line together.
Coach Luiz Felipe Scolari can ill afford to lose his captain, whose absence was badly felt at Wembley nearly a year ago, when Walcott kept cutting his way through in England's 2-1 win.
Walcott, of course, will not be present five months from now at the World Cup. Every time Paris St-Germain take the field, Scolari will hope Thiago Silva escapes a similar fate.
Send questions on South American football to vickerycolumn@hotmail.com and I'll pick out a couple for next week.
From last week's postbag:
Two years ago QPR almost signed a young Brazilian striker called Henrique but the move never went through because he could not gain a work permit. I seem to remember that he had played very well in the Under-20 World Cup that year. How is he doing now and does he still have a chance of being successful in Europe, and if not, is the U20 World Cup not such an accurate arena in which to gauge a player's skill or potential? Tom Martin
He hasn't done well - a quick loan to Granada in Spain, a mediocre spell with Sport of Recife and a year with Botafogo without managing to score a single goal.
There is some talent there - though I think he was very lucky to have been chosen as the best player from the 2011 World Youth Cup. Oscar, for example, was far better - and life is always easier for a striker if he is playing in a good team and getting lots of chances. Soon after the tournament, plenty of that team were promoted to Brazil's senior squad to pick up some experience. Henrique was not among them, which I think speaks for itself.