Hearts: No leniency on signing embargo from SPFL
Last updated on .From the section Hearts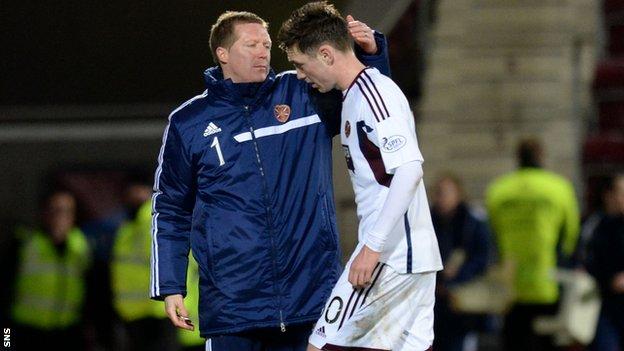 The Scottish Professional Football League will consider Hearts' request to sign players on a one-in, one-out basis, but a signing embargo remains.
But SPFL chief executive Neil Doncaster stressed there had been no change to its rules in response to a request for a partial lifting of the ban.
"The rules are quite clear as to what the board can and cannot do," Doncaster said.
"They can consider applications for individual players to be registered."
The embargo was imposed by the SPFL after Hearts went into administration last summer, while the Scottish FA also banned the club from signing players aged over 21 until February.
And the SFA have already rejected a similar plea.
As part of his argument for leniency to the SPFL, Hearts administrator Bryan Jackson cited health and safety concerns over the club's young players.
"The board did not discuss the Hearts situation at all today," said Doncaster.
"The situation is that, late last Friday, the administrators at Hearts put forward a broad request for us to consider allowing the registration of a particular player.
"To consider those applications, the board do need to see a copy of the player's contract and make it clear which player they are replacing.
"We haven't had that and the board don't have the flexibility to override that rule.
"That rule enabled Hearts to bring in Danny Wilson last January and last summer 10 players were registered on the basis of one-in, one-out at Hearts.
"In some quarters, it has been portrayed as an appeal against a decision, but there is no appeal.
"In fact, there is no decision by the board. It is a general rule that effects all clubs in administration that prohibits them from signing new players other than bringing forward individual requests for players to be brought in on a one-in, one-out basis and, if we get such an application, we can consider it at that point."
As the SPFL board met on Monday, Hearts announced that their playing resources had been further depleted because of a broken foot that will keep winger Jamie Walker out of action for about 10 weeks.
"There is a huge sympathy for Hearts' players, supporters and, indeed, the administrators for the position they find themselves in," Doncaster added.
"It is not their fault that they are in their position at the moment, but the rules are very clear."
Jackson had conceded ahead of his appeal that there was only a slim chance of success as the SPFL signing ban is the result of a rule, rather than a decision, and is therefore not open to appeal.
"I just feel that I have to try because what makes the difference now is we can see the results of playing the young boys week after week and with injuries," Jackson added.
Hearts entered administration in June, with administrators BDO reporting debts in excess of £28m.
Saturday's 1-0 home defeat to Motherwell leaves Hearts 20 points adrift at the foot of the Premiership.