Phil Gartside: Bolton Wanderers chairman not worried by debt level
Last updated on .From the section Football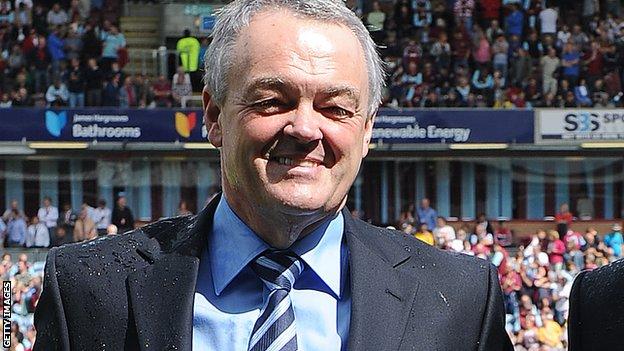 Bolton Wanderers chairman Phil Gartside has played down the significance of the £163.8m debt recently announced by the Championship club.
More than £150m of the figure is owed to owner Eddie Davies.
Gartside said: "We owe the bank £8m and there will be many a club who will be envious of having an £8m overdraft.
"Technically it is a debt, but it's not in the sense of a bank debt. It doesn't cause me any sleepless nights."
Speaking to BBC Radio Manchester, Gartside continued: "It is an amount of money that a benefactor has lent to us. It's not bank debt.
"If some other foreign owner does that sort of thing, it would never get a mention. Because it's Eddie Davies and because it's Bolton Wanderers, it gets called debt."
Wanderers posted a loss of more than £50m for the financial year ending June 2013, taking into account Bolton's first season back in the second tier after 11 years in the Premier League, while turnover dropped by £30m.
Gartside, who reiterated that Davies has no plans to end his involvement with the club, also gave manager Dougie Freedman his backing following a difficult first half of the season.
Bolton are with 28 points from 25 games, 11 points from a play-off spot and seven above the relegation zone.
"Dougie's had a tough job since he came here," said Gartside.
"Financial Fair Play rules have made it more difficult to be able to give him funds to go and buy players. He's comfortable with that.
"He's changed our training, the structure of the training ground and he's very keen to look at youth. He's somebody who, in the past, has developed young players.
"From my point of view, I enjoy working with him and he's doing a good job. He's a young British manager and we haven't got enough of those. In football, we've got to be responsible for developing those sorts of things."