Hereford United: Bulls fans to be represented on board
Last updated on .From the section Football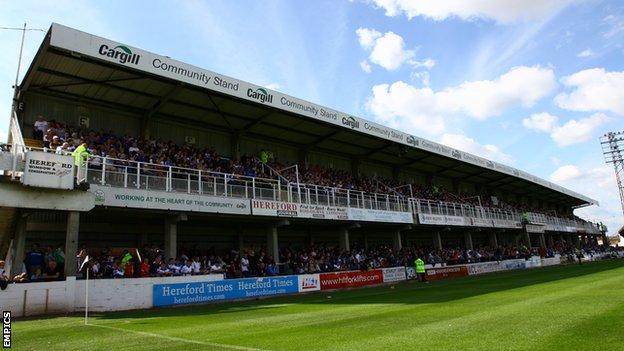 Cash-strapped Conference Premier club Hereford United are to allow fan representation on their board.
The Hereford United Independent Supporters Association (HUISA) have accepted an invitation to supply a representative for each board meeting.
Bulls chairman David Keyte said: "The board feel that at this testing time for the club that a supporter voice on the board can only be a good thing.
"HUISA have been there for us since 1999 and raised a great deal of funds."
Since current chairman Keith Dodd has taken the chair of the Independent Supporters Association, they have raised in excess of £80,000 for the club.
"That has undoubtedly helped to keep the club alive" added Keyte.
"We thank them for that and will look to them to bring their expertise to the table in helping to secure the long-term future of the club."
HUISA will decide on a meeting-by-meeting basis which member attends, voted for at their annual AGM.
This allows for any HUISA committee member with a particular skill-set to attend particular meetings.
Hard-up Hereford have already turned to their fans for help this season, appealing for more supporters to turn up at home games at Edgar Street.
The Bulls have been in financial difficulties since being relegated from the Football League for a second time in 2012.
The club were last week placed under a transfer embargo following a winding-up petition served on them by HM Revenue and Customs, after failing to meet their latest PAYE and VAT bills.