AFC Bournemouth: Eunan O'Kane hopes to banish FA Cup nightmare
Last updated on .From the section Football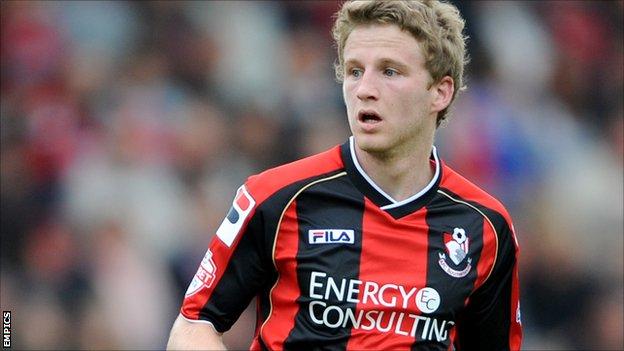 Bournemouth midfielder Eunan O'Kane says he hopes to banish one of the worst days of his career by helping secure an FA Cup tie against Liverpool.
O'Kane was in the Torquay side that lost to Crawley, who were a non-league club, and missed out on a trip to Old Trafford to play Manchester United.
"It was not a nice experience, that day still sends a few shivers down my spine," O'Kane told BBC Radio Solent.
"It's something I never want to experience again."
He added: "We were expected to win and to then see them play at Old Trafford was hard to take, It's a position I don't want to be in again and I'll be doing everything I can."
Victory for the Cherries against Burton on Tuesday would set up a fourth-round home tie against Liverpool.
O'Kane, 23 began his career at Everton as a trainee but grew up a Liverpool fan, making the potential clash against the Reds that bit more special for him.
And because of that the Northern Irishman says the Championship side will not be taking their lower-league opposition lightly.
"It's an important game and there is quite a big carrot at the end of the game if we can win," he said.
"Burton are a good side and are flying in League Two and we know what can form can do.
"We experienced that at Wigan last season. They will come here with that same mentality and won't fear us. It'll be a good test of our professionalism.
"It would be a huge occasion if we could get through, it will be brilliant to play them [Liverpool] and test ourselves some of the best players in the country.
"Before the draw they are who I would have picked, the only thing I would have changed is to make it away. Hopefully we can get the job done and we can look forward to it closer to the time."
However, O'Kane does admit the prospect of knocking his boyhood heroes out of the Cup is not something he would relish.
He added: "I'm a Liverpool fan, although I would take the opportunity, it's not something I've dreamt about, knocking Liverpool out of the FA Cup."